I was paid to review this website, but all opinions are my own.
Whenever I think about giving back, I immediately think of Christmastime. Obviously, though, I know that you can give back year round. There are a ton of opportunities to serve and volunteer, you just need to do a little research.
© momius / Dollar Photo Club
Disclosure: This post contains affiliate links (I've put a * by any link that is an affiliate link). If you click on one of these links and you make a purchase, I will receive a small commission from your purchase. Thank you for supporting Humble in a Heartbeat!
Giving Assistant Review
Fortunately, if you do a lot of online shopping, it will be even easier for you to give back throughout the year just by using Giving Assistant*. When you shop through Giving Assistant*, they will help you donate a percentage of your cash back earned to a charity of your choice! Now how cool is that?
Signing Up for Giving Assistant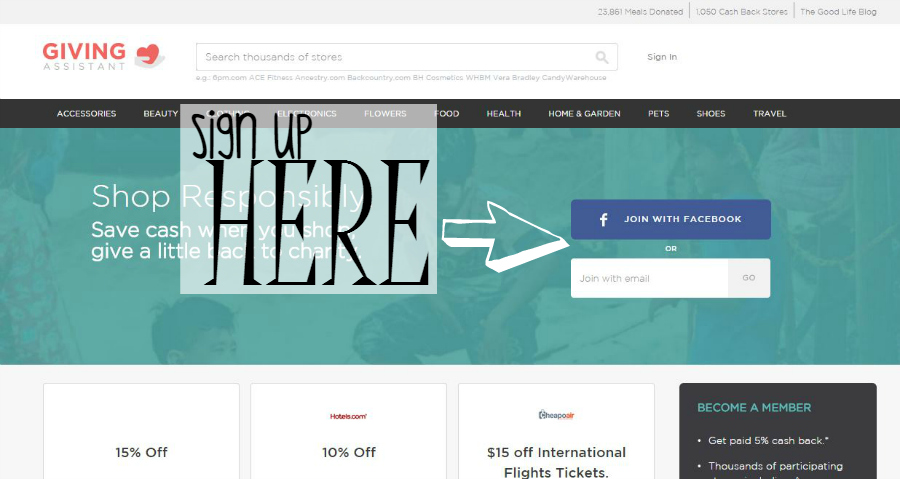 When you first go to the Giving Assistant* website, you will see the buttons to sign up right away.You can choose to sign in with your Facebook login or with your email.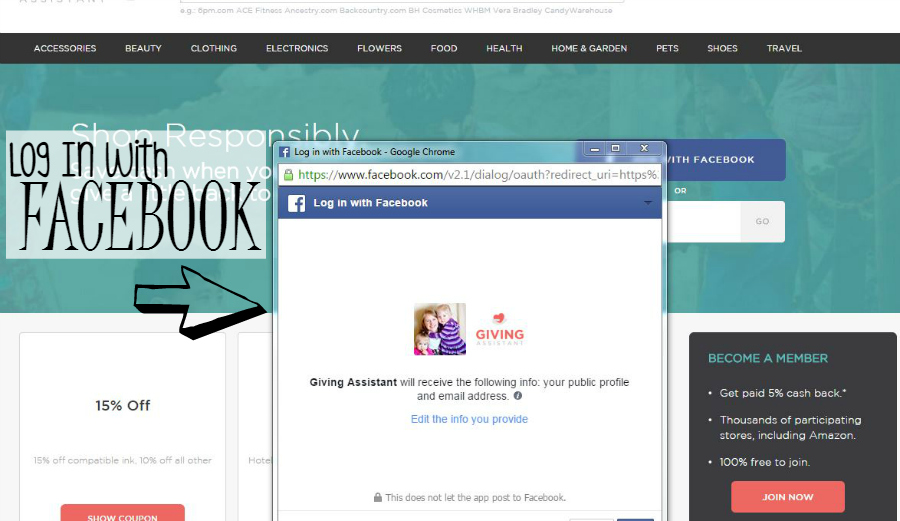 I chose my Facebook login since it's much quicker.
Choosing a Charity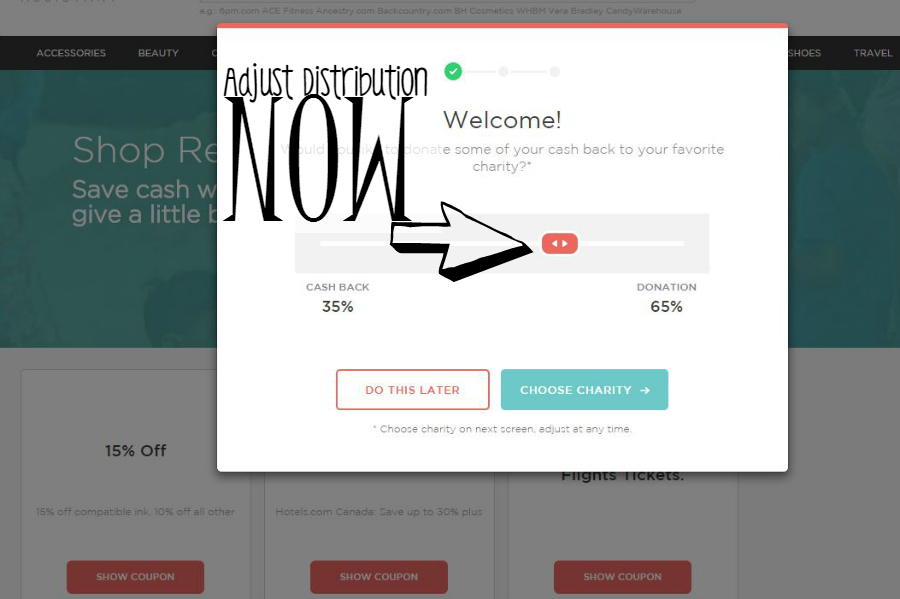 When you get to the part where you need to choose the distribution of how much of your earned cash back you'd like to donate to charity, move the little lever to your liking. If you have no idea what charity you want to donate to, I suggest clicking "Do this later." I went to THIS website to look through charities and made my choice then.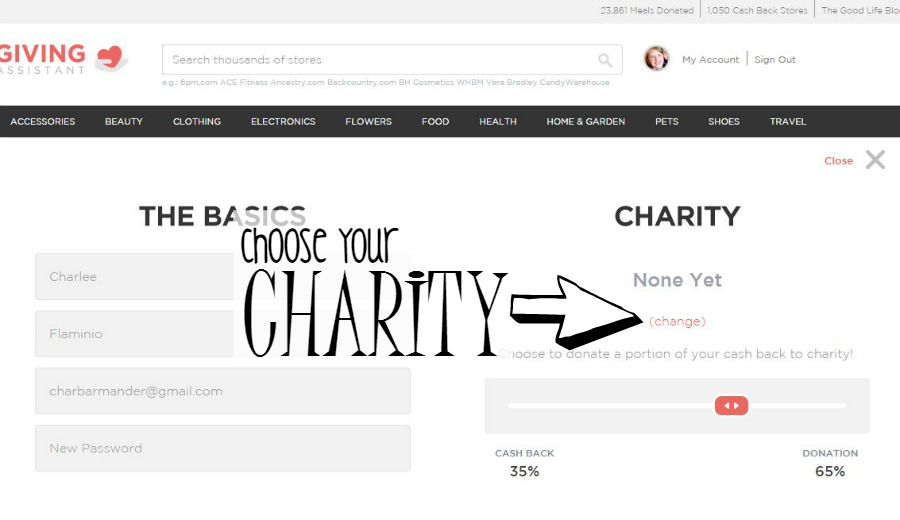 I personally chose The American Liver Foundation because my husband had his gall bladder removed over a decade ago and always has to watch what he is eating for his liver's sake. If anything ever were to happen where we'd need to benefit from this charity, I'd be happy to know that I once gave back to them. When you are choosing a charity, make sure to find one that you can relate to so you are more motivated when shopping online.
Cash Back Payment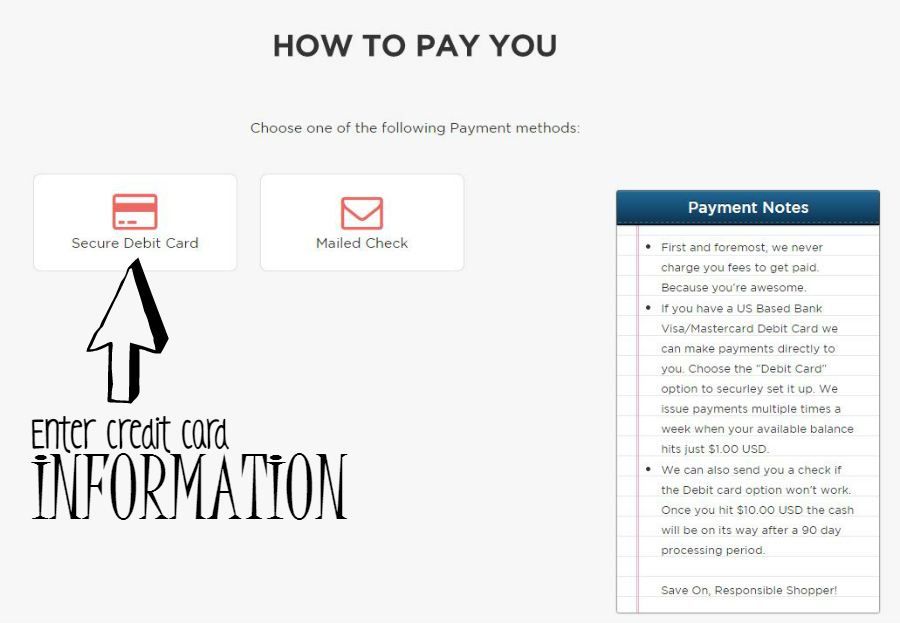 In order to receive your cash back after you earn it, you need to first put in your debit card information (as long as it's a Visa or Mastercard). You will receive cash back on your debit card as soon as you earn $1. Or, if you don't have a debit card that will work, you will need to enter your address so you can receive a check when you reach $10 earned cash back.
When I use a cashback site like Giving Assistant*, I don't use it just to find a great deal. I use it because I actually have thought about the item I am going to buy well in advance and know that I will actually need it.
Cash Back from Giving Assistant
When I was browsing the online stores you can shop through Giving Assistant, I was pleased to find Amazon.com among them. They offer 5% cash back on purchases and there are also coupons you could browse through if you know exactly what you're going to buy.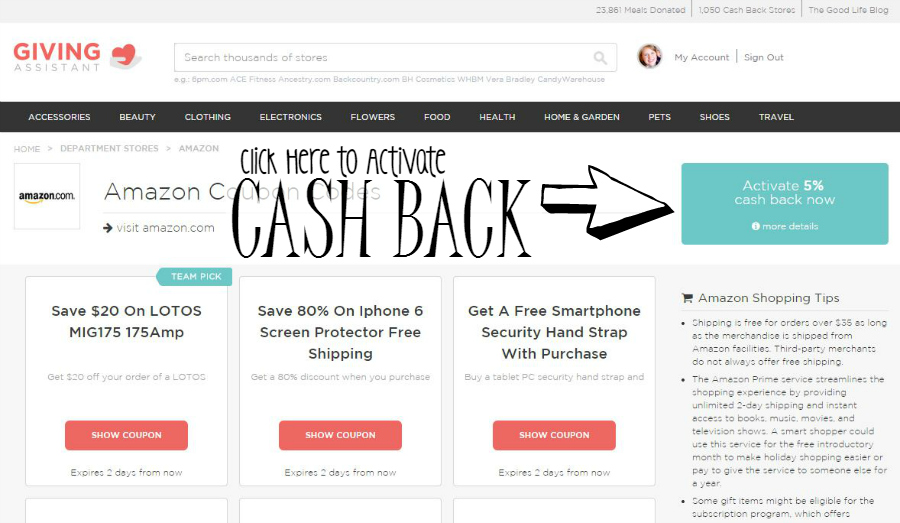 Before you leave Giving Assistant to the store website, you must first click "Activate x% Cash Back Now." There will be quite a few websites that do not offer cash back at this time, but they will most likely have coupons you can use. When you use a coupon, Feeding America will donate a meal to an American family that needs it. So not only can you earn cash back for your charity of choice, you can also feed a hungry family!
I decided I needed some things from Amazon, so I activated the 5% cash back. I browsed through the coupons but I wasn't able to find any that I could use for what I was going to buy. Then I clicked, "Visit Amazon.com."
I bought some towels (that I'll be using to replace paper towels in our kitchen), two books for my daughters for Easter, and a picture frame for Bella (I wanted to give it to her for her first birthday, but we didn't have the money in our budget). My total came to about $40. Because I arrived on Amazon through Giving Assistant, it changed to Amazon Smile and donated $0.50 to The American Liver Foundation for me.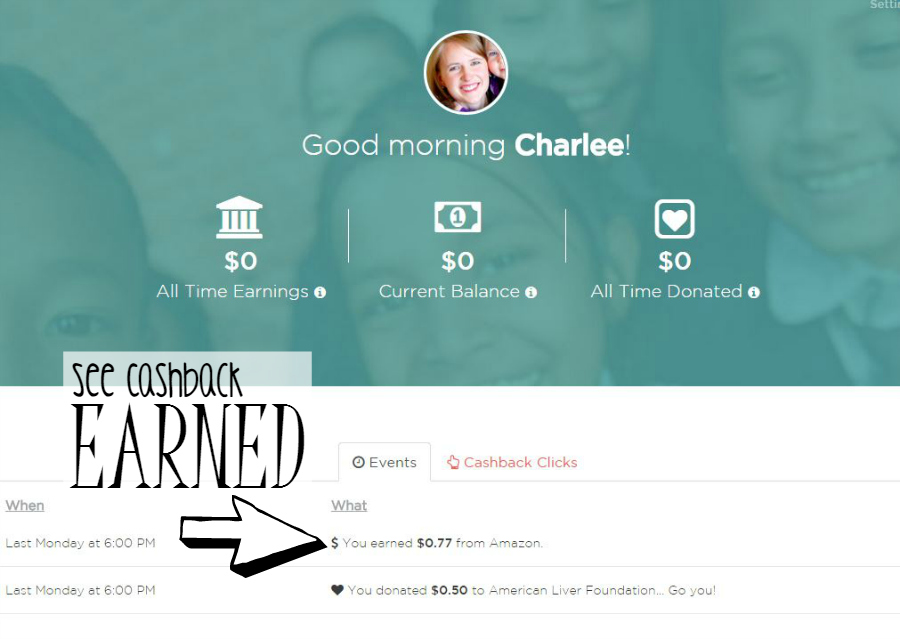 Only 3 days after I paid for my purchase on Amazon, I went to my Giving Assistant profile and saw that I had received $0.77 in cash back. I got to keep $0.27 and $0.50 was donated to The American Liver Foundation. In total, then, I donated $1 to my charity by using Giving Assistant and shopping with Amazon Smile! If you want to earn all 5% from Amazon, you do have to buy items that are sold by Amazon. I found this out by clicking on "more details" right under the cash back % on the Amazon page.
Other Stores That Offer Cash Back Using Giving Assistant
I wanted to see what other stores I could shop through with Giving Assistant to earn some cash back and give to The American Liver Foundation. I found out that currently Groupon offers 12% cash back and The Children's Place offers 5%! I wanted to see if Ebates offered comparable cash back, but on these two particular stores they do not. Groupon currently only gives 6% cash back and there is no cash back from The Children's Place. So it definitely pays to check out Giving Assistant before shopping online! Also, Amazon only offers up to 3% cash back through Ebates and only on certain products.
I do believe that shopping through Giving Assistant* for online purchases is a fabulous way to not only earn cash back but also give back to charities that you believe in.
What charity would you love to help out?

Latest posts by Charlee Flaminio
(see all)