Summertime is finally here! Since I have two kids under the age of two, I have to think of things to do outside that they can both enjoy. While I don't love being outside, I know my kids do. It's easier to have the ideas right in front of my face, on a piece of paper, so I don't have to think when it's time to go outside! Make sure to grab your own free printable bucket list for your child at the bottom of this post.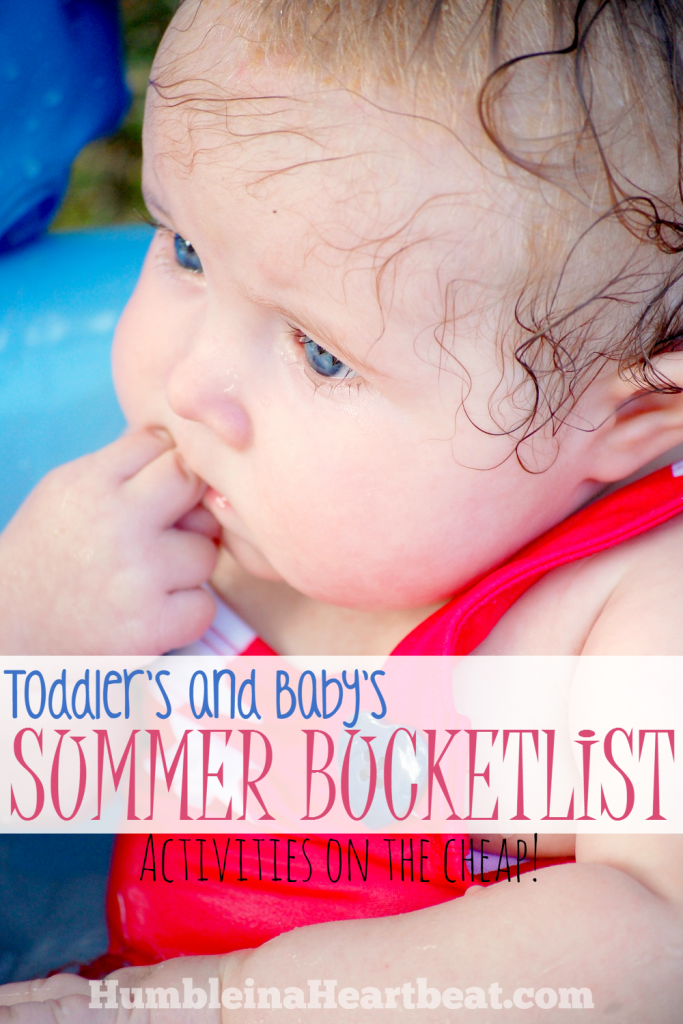 I've come up with several ideas for our summer bucket list. The activities listed in the upper section are most appropriate for a child younger than one. The rest of the activities are probably great for most other children. I'm no expert on children, but this list is what I think would work great for my own kids.
And did I mention that all of these activities can be done for next to nothing? Now that's a bargain!
Less than 12 months
Kiddie pool in backyard
Park (swings, slides, play ball, etc.)
Visit the farm
Stargaze
Dig dirt
Explore front or backyard (leaves, grass, bugs, etc.)
Blow bubbles
Watch bugs, birds, planes, cars, etc.
Walks
Read outside under a tree
Go on a hike
Picnic at the park
Play with toys on a blanket
Nap on blanket in the shade
Up to 3 years
Splash pad
S'mores
Library once a week
Popsicles and ice cream cones
Parade
Fireworks
Trace body on sidewalk with chalk
Play in the water
Play in a sandbox
Feed the ducks with some stale bread
Paint grass/deck/sidewalk with colored water
Play with colored ice cubes
Print out your own summer bucketlist (HERE) so your child can check off the boxes as they are completed.
What do you do with your kids in the summer for free?

Latest posts by Charlee Flaminio
(see all)