I currently have a 2 year old (almost 3) and a 15 month old. Those ages are tough, let me tell ya. There's the constant fighting, hitting, scratching, wailing, falling, and so many more negative things that I guess I should just stop there. But there's also another more beautiful side to these ages. There's the air kisses, the tight squeezes, the smiles, the laughter, and the wonderful conversation that blows my mind. It takes a lot of energy to get through the day, but I know it's not going to be like this in a couple years so I try to enjoy what I can.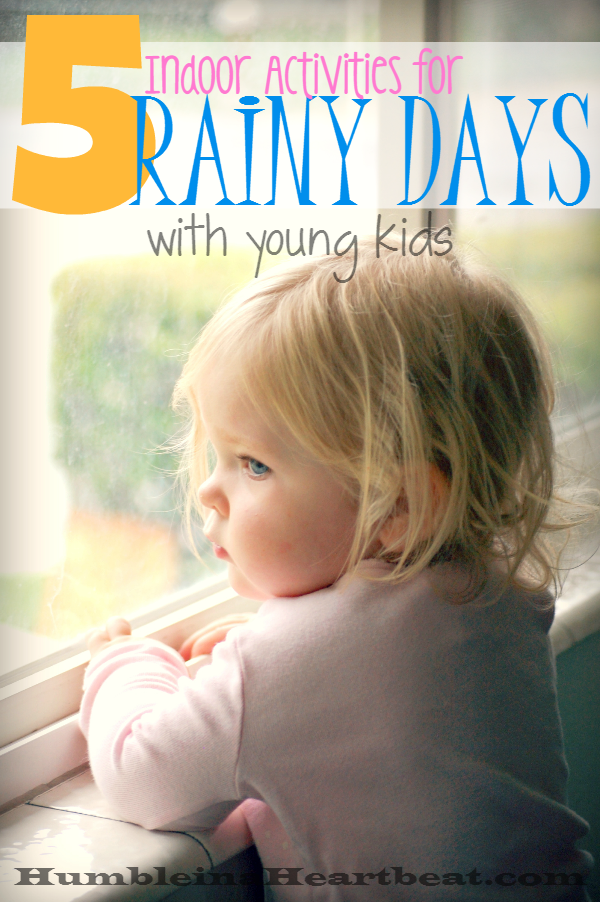 With all this pent-up energy my girls have, it's actually really nice to get outside every once in a while (even though I'm a total indoorsy type). We had quite a few days in March that were super nice. In fact, they were almost like summer days because the weather was nice enough to wear short-sleeves and flip-flops. That's not too common around here, but I knew that once April hit, we'd be having more wild weather, so I got the girls outside as much as I could while it was still nice out.
We've been getting some rain (and even snow!) this week, so we are stuck indoors. Makes me want to burst out singing, "Rain, Rain, Go Away…" Oh, wait. That's the theme of this post. So let's get on with it!
"Rain, Rain, Go Away" Lyrics
Rain, rain, go away
Come again another day
Maybelle (insert name of choice) wants to play
Rain, rain, go away
I found a really cute rendition of this song on YouTube (HERE).
It's kind of ironic that I'm even writing a post about making the rain go away since we haven't seen much rain or snow this winter and spring. But this song is definitely a Sofía favorite. The funny thing is that I never really "taught" her this song. She picked it up, I think, when she was watching some compilation of nursery songs on YouTube once. It is often her song of choice when she is walking around the house and has the desire to sing. She'll say, "Rain, rain, go away…You sing mommy." Then I'll have to join in with her. She wants to go through everyone in the family, Mommy, Papi, Abuela, Bella, Alegra (the dog).
Rainy Day Activities for Toddlers
On days that we can't go outside because the weather is yucky, we try to stay active inside. These activities all work really, really well for my girls at the ages they are right now.
Dance parties
Pandora is perfect for starting a toddler-sized dance party. I just choose a station on my list that I know has music we can move to and the girls shake it! Bella is pretty much a natural dancer, and she will dance without music. One time she was standing at the side of the bathtub while Sofía was taking a bath and she started moving her hips around. Then she got her shoulders moving, and she was grooving to nothing but the sounds of the splashing water! These dance parties could last longer, but mommy gets tired and, once she stops, the girls put an end to their moves.
Here's our 10 favorite YouTube songs for getting the wiggles out!
Ring Around the Rosies and Duck, Duck, Goose
I'm pretty sure Sofía could play these two games for hours on end. We do each one a max. of 6 or 7 times because, you know, circles. The older I get the more dizzy I get! With Duck, Duck, Goose, we basically just touch each other's heads and get up and run around. Sofía doesn't quite get the concept of chasing the person who touched your head and said, "Goose!" but we're working on it. 😉
Hide and Go Seek
I hold Bella while we play us some Hide and Go Seek, and we just take turns hiding. Sofía's favorite spot to hide is behind the curtains in her room. She often announces herself before we even walk into the room, but they both find this game such a hit!
Play Pretend
To make Bella feel more like herself, we try to crawl with her and pretend like we're animals. She loves it when we get on the floor by her and act like dogs, cats, bears, and tigers. Another pretend game Sofía has been playing a lot of is Chef. She asks me what I want to eat, goes to her little kitchen and cooks it, then brings it to me and we both eat whatever it is. We've tried some delicious foods this way!
Workouts
This last idea is one that I have only tried a couple times, but I'm scared to try it more often because that toddler can get demanding and push me too far! I taught Sofía how to do jumping jacks and we counted to 10, but it was right around this time that she had learned how to count all the way to 20, so instead of stopping at 10, she said, "Eleven!" and I was forced to go on!
What fun indoor activities do you do to keep moving on gloomy days?

Latest posts by Charlee Flaminio
(see all)