I was trying to think of black and white food to make for the World Cup this year, and I thought of a recipe I found on Pinterest for Cookies 'n Cream Popcorn. Cute, right? I wanted to see if there were any other recipes like this, so I searched for "soccer popcorn" and I came across an actual trick they use in soccer called, you guessed it, the Popcorn! Watch the video if you don't believe me! César said it's actually really hard to do and takes tons of practice.
While I was explaining to César what I was making, he told me that they no longer play with black and white soccer balls in professional soccer. Like, eons ago they changed that. What?! Nobody let me in on this change! I doubt I'm not the only person who didn't know that.
The hubby really hasn't been too absorbed by the World Cup. He just has to know the scores of every game, and he has to watch his own team, Argentina, play. I can handle that much! 😉 To celebrate a week and a half of World Cup madness gone by, I made Soccer Popcorn!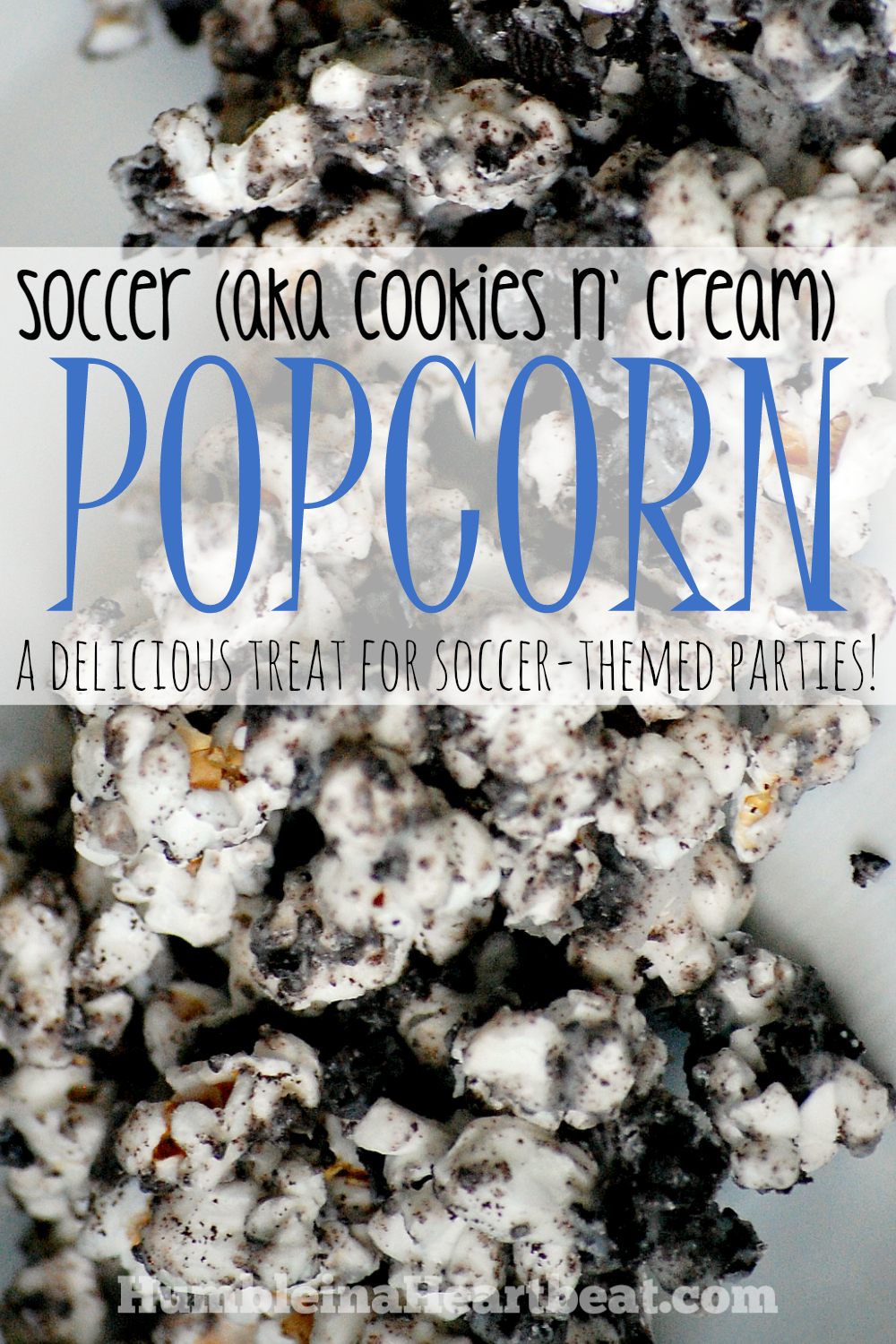 Without further ado, here's the beautiful recipe!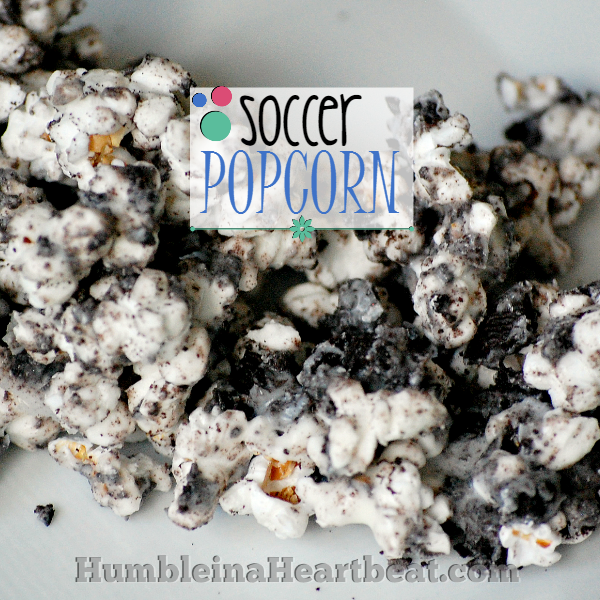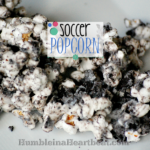 Soccer Popcorn (a.k.a. Cookies 'n Cream Popcorn)
Ingredients
5

cups

popped popcorn

14

Oreos

take out the cream in the middle

8

ounces

almond bark

vanilla flavored
Instructions
Crush the Oreo cookies in a plastic bag with a rolling pin. Lay out the popcorn on a baking sheet lined with aluminum foil. Add the crushed Oreos to the popcorn and stir around.

Put the almond bark in a microwave safe bowl. Microwave for 30 seconds and stir. Microwave for 20 seconds more and stir. If the almond bark still has some lumps, microwave again for another 20 seconds.

Pour the smooth almond bark over the Oreo and popcorn mixture. Stir everything together with a spatula.

Serve while still a little warm, or you can put it in the fridge for an hour or so until the popcorn is somewhat hard.
I attemped to make Soccer Popcorn BALLS, but they didn't work out. The popcorn was much too warm when I tried forming it into balls, so I put it in the fridge for an hour. When I pulled it out of the fridge, the popcorn was now way too hard. I know that if I had placed popcorn in aluminum foil and wrapped it like a ball (and repeated the process until all the popcorn was gone) and then put it in the fridge, I would have had cute little soccer popcorn balls. Try it!
Cost to make Soccer Popcorn
Popcorn – $0.19
Oil – $0.24
Oreos – $1.16
Almond bark – $1.89
Total cost – $3.48
Did you know that they don't use black and white soccer balls (professionally) anymore?

Latest posts by Charlee Flaminio
(see all)