*This is the 19th day of the One Month Spending Freeze Challenge. Please click here to see all of the posts in this series.*
Ever since my husband started his business, we have been earning less money than he makes. This means we are taking money from savings each month. Our emergency fund has almost been depleted, and it's time we started putting money back into it.
© JRB / Dollar Photo Club
Since I am a family finance blogger, and I would love it if all of my readers were saving money every month, I'm going to put my money where my mouth is and start saving today.
We have a savings account at our local credit union, but I want to have more than just one savings account now. When I started blogging, I read about people who have multiple savings accounts, and it really got me thinking. I know if we had several, it would help me be more motivated to save since I could quickly see how much I had already saved in each "pot" of money. Multiple savings accounts also just keep your savings more organized.
A few weeks ago, I signed up with Capital One 360 online and deposited $10. We are going to start putting $20 into our account each month, or $5 a week. It's very doable, and I am really excited to start saving again.
Now I would like to challenge you to either set up several savings accounts and start setting goals OR automatically transfer money to your savings account each month OR increase the amount of money you are currently saving. Go back to yesterday's post, if you missed it, about setting a savings goal.
If you would like to open a Capital One 360 account for this challenge, please use my referral link. When you have a savings account with Capital One 360, you can refer others and receive $20 when they deposit $250 or more in their account. It's a win-win!!
I took a few screenshots of my savings account set up so you could see how easy it is to do with Capital One 360. There are other savings accounts online, but what I like about Capital One 360 is that it's free, you can open up to 25 savings accounts, and you can easily transfer money from your checking or savings account at your bank or credit union.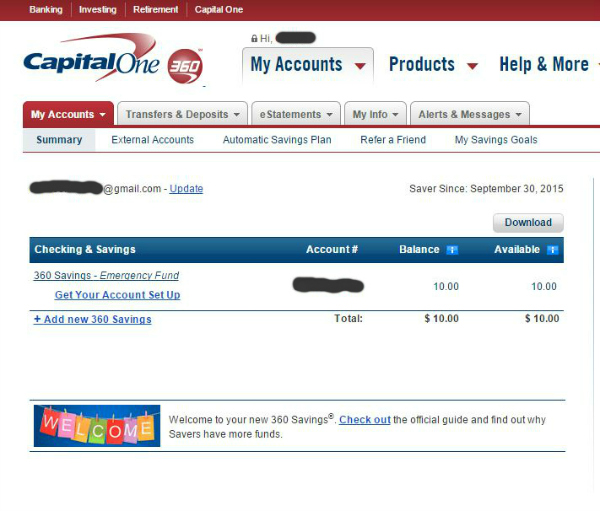 This is what my account looked like after I deposited $10 into our emergency fund.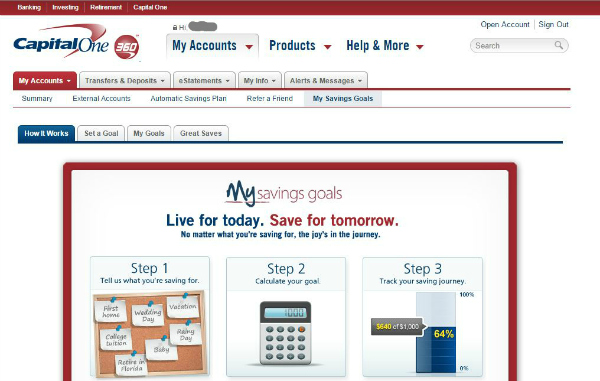 Then I decided to set a goal, so I clicked on "My Savings Goals" to get started.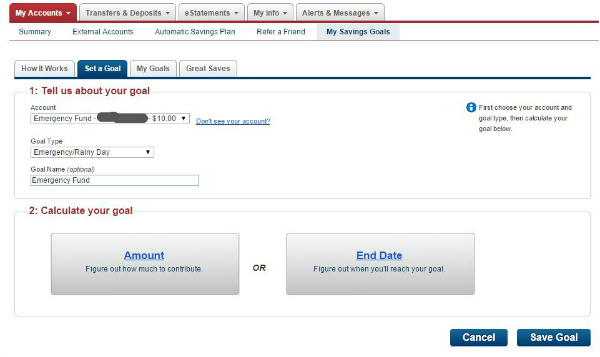 The first step is to choose which account you are setting a goal for (if you already have other accounts open) and the second step is to set the goal, either by amount or end date.
I went ahead and chose to save by an end date. I put in how much we would like to save and how much we could save each month. That means if we follow this schedule we will have $1,000 saved by 11/17/2019. Of course it would be great if we could save that $1,000 before then.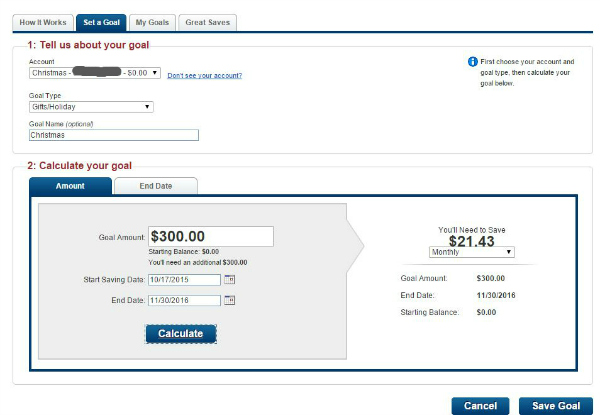 I decided to open a second account to save for Christmas (not this year, but next year). For this one I set the goal based on the end amount we would like, which is $300. Then I put the start date and the end date. It says that we need to save $21.43 each month to reach that goal. For now, that will be out of reach, since that is more than what we will put into our emergency fund each month. But maybe in a few months we'll be able to start putting money there.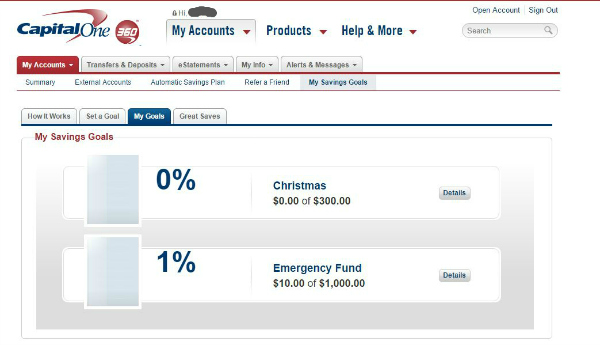 After you set your goals, you can see your progress under "My Goals."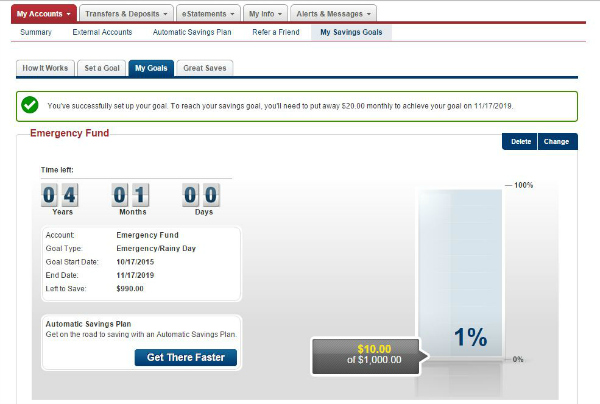 This post was not sponsored by Capital One 360. I have just always heard great things about them, so I wanted to make sure that you all knew they existed.
How much are you going to start saving each month?

Latest posts by Charlee Flaminio
(see all)