This school year I have a 3 year old and a 1 year old. My three year old just barely turned that age, so I think it is best if I wait until next school year to possibly send her to a preschool. Until that time I would like to teach her at home. We don't have much room in our budget for preschool costs right now and I think she can wait at least another year to enter the world of school. Once she starts she'll be there for a while.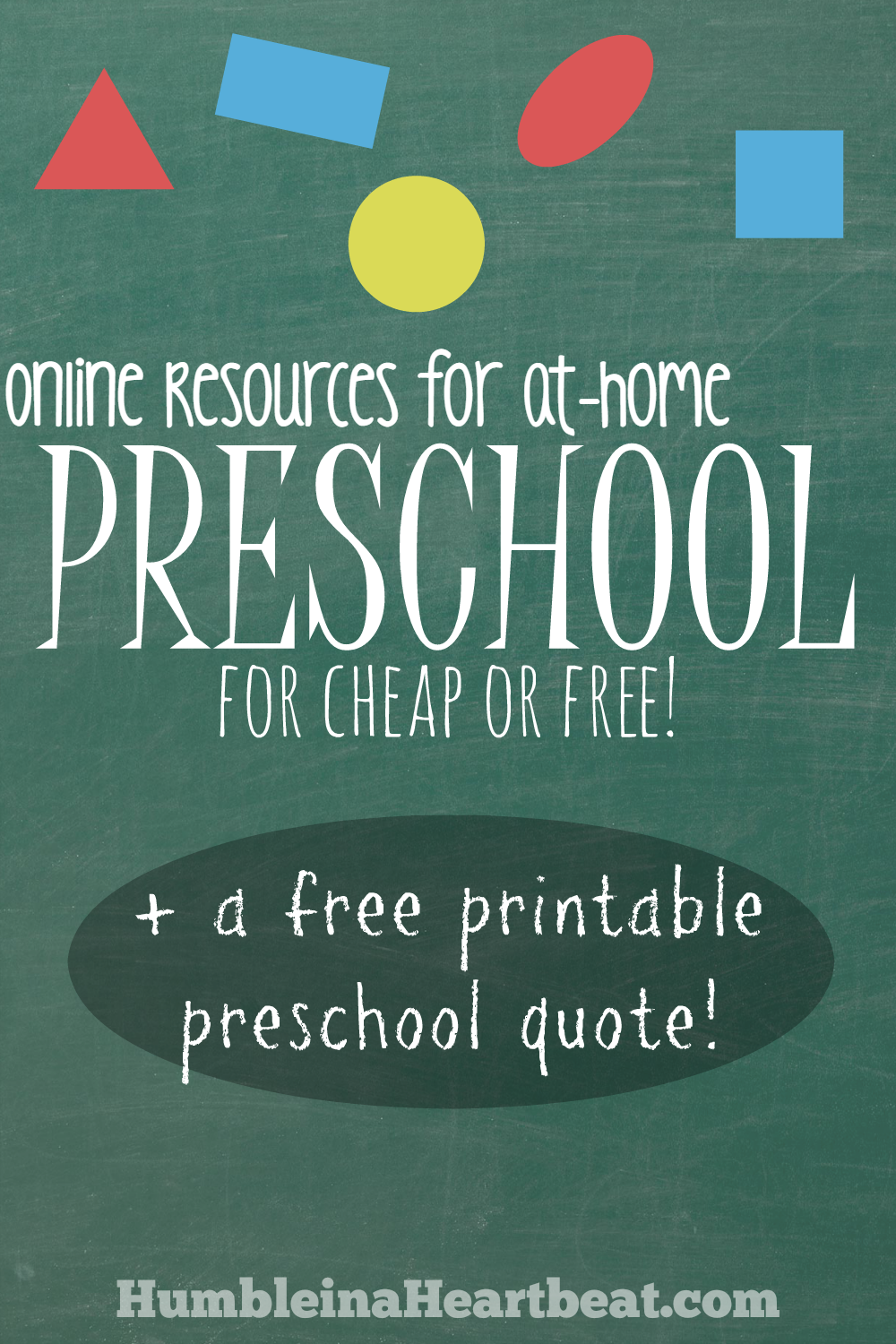 The cheapest option for preschool in my area is around $80 a month. If the program starts in September and ends in May it would cost $720 for the school year. I am certain that I can beat that this year doing at-home preschool. My goal is to spend less than $15 each month, and hopefully most of that is for materials for activities and such.
The Best Online Resources for At-Home Preschool
Since I've been doing the research for our preschool, I thought I'd share what I found. These are some of the best online resources I came across in my search for an at-home preschool, while keeping in mind price. These resources should run you less than $15 a month and the reviews (if there are any) are outstanding. I will update this post in a couple months with what option(s) we went with and how my daughter is doing.
Preschool Palace
The reviews for Preschool Palace on Amazon are almost excellent, but other sites have reviews where the customers didn't receive the CD they ordered. So I am a bit hesitant about them. They do have a great free printables section on their site that could be very useful for any at-home preschool.
Preschool Mom
Preschool Mom is full of free printables! You can choose to search their database by resource (i.e. games, charts, mini books, etc.) or theme (i.e. alphabet, colors, season, etc.).
Preschool Post
For any Christian mom out there, this site is a goldmine! Preschool Post has 39 lessons and counting. Each lesson covers a letter or number, a preschool theme, and a bible theme.
Homeschool Share
Homeschool Share is a very basic site, but don't let that fool you. The lessons are centered around children's books. For example, one lesson is all about The Poky Little Puppy. From the book, your child can learn about social studies, language arts, math, science, the Bible, and cooking. How amazing is that?!
Blue Manor Education
This website is dedicated to sharing free learning sites your child can use. I counted 49 sites, so it's definitely worth looking through.
Connected with Blue Manor Education is the site True Aim. On this site, you can sign up as a subscriber and receive one free ebook for your child each month.
134 Preschool Activity Ideas for Homeschooling Little Ones
What a great resource! This post contains 134 links to activities involving science, reading, writing, math, history, music, and more.
Homeschool Circle Time Binder
The binder Amy (Wildflower Ramblings) uses for circle time in their preschool is a really awesome idea. The only cost would be the binder, sheet protectors, and any pages you printed out. The idea behind the binder is to keep a collection of songs, poems, and activities to refer to when doing circle time, if you choose to do that. We have a ton of songs we love to sing, and I'm sure my daughters would love to continue learning more and more.
How to Homeschool Preschool
This is a wonderful post that discusses important preschool skills you should keep in mind. Charity, the writer, also wrote a second post to follow-up the first. In it she talks about life skills your child should learn from preschool as well as what they will learn for Kindergarten.
10 Tips for Teaching Preschool at Home
These tips come from a mom who taught preschool for several years. She has wonderful advice for teaching your child at home and links to more resources that should be helpful.
Blogs
There are so many blogs that can help you teach your preschooler. The blogs I list below are those that I have enjoyed reading. I am sure there are tons more I could have listed, but I don't want to overwhelm you! I would suggest staying connected with each one through facebook, pinterest or by subscribing so you can get more ideas for your own curriculum. Most of these links go straight to the preschool section of the blog.
1+1+1=1
A Mom with a Lesson Plan
Carrots Are Orange
From ABCs to ACTs
Golden Reflections Blog
I Can Teach My Child
No Time for Flash Cards
Teaching 2 & 3 Year Olds
Teaching Mama
The Measured Mom
Wildflower Ramblings
Just as a bit of inspiration for your own at-home preschool, here is a printable quote about preschool. I was not able to find the source of the quote, but it's a really cute one.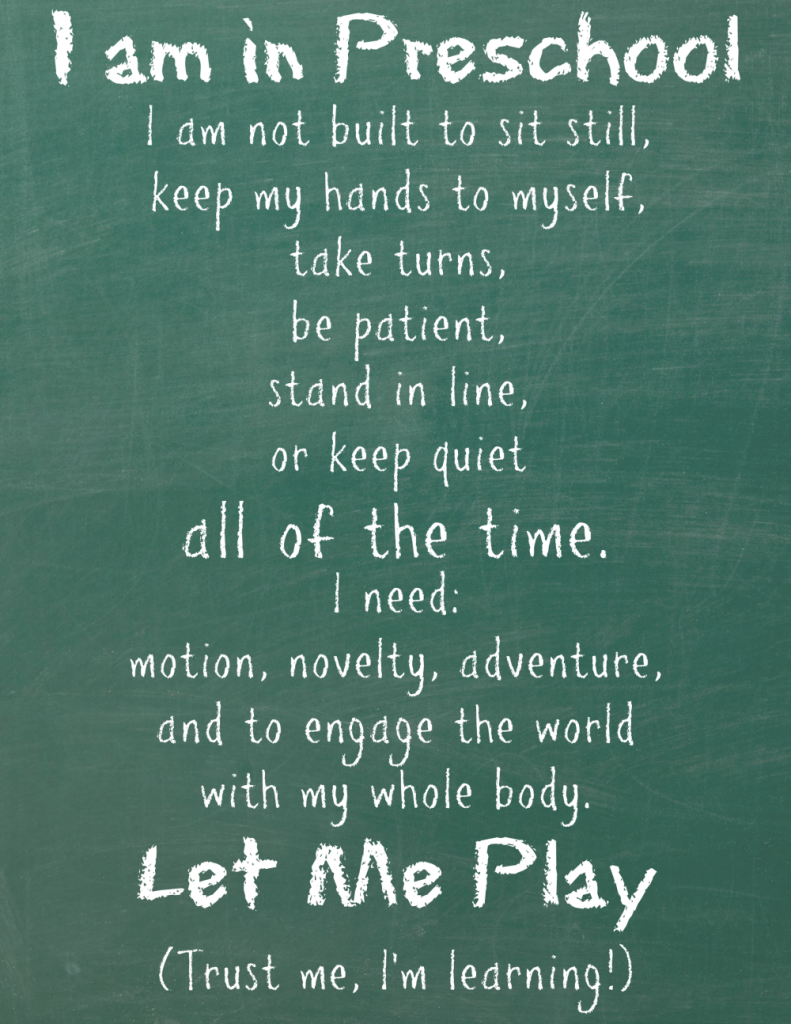 There is so much information online about preschooling at home. Don't get overwhelmed! Try to focus on one or two resources and use the others as supplemental if needed. There is no need to get all worked up about preschool!
If you have a younger child, like I do, and you're not sure what they will do while you teach your preschooler, check out my simple tot school schedule. It won't keep them occupied the entire time, but it can be a way to help them learn just like their older sibling.
Will you be teaching your child at home this year?
Thank you for reading this post! If you liked it, please share it on Facebook or Pinterest. 🙂

Latest posts by Charlee Flaminio
(see all)