*This is the 9th day of the One Month Spending Freeze Challenge. Please click here to see all of the posts in this series.*
Dating and spending freezes don't mix, do they? Sure they do!! You can do a ton of stuff for completely FREE in the comfort of your own home.
© Rido / Dollar Photo Club
So, tonight, instead of going out and feeling like you should be spending money in some way, you're going to stay home and have a free date night with your spouse. Deal?
Some of the best and most memorable date nights I've ever been on were also the simplest, mixed in with a little creativity.
I remember for our 3rd anniversary, we packed a picnic lunch and headed to a unique park in our area. Once there, we ate our lunch, walked around the park, and then we played some tennis. There was nothing particularly special about the date, but it's still one of my favorites. I think it's because we were spending a lot of quality time together, and quality time is my primary love language.
The Mix and Match Love Language Date
The first thing you will want to do for your date tonight is either get The 5 Love Languages book from the library (you may want to read the book together before doing this date) or go online and take the quizzes available so you and your spouse can figure out each other's love languages.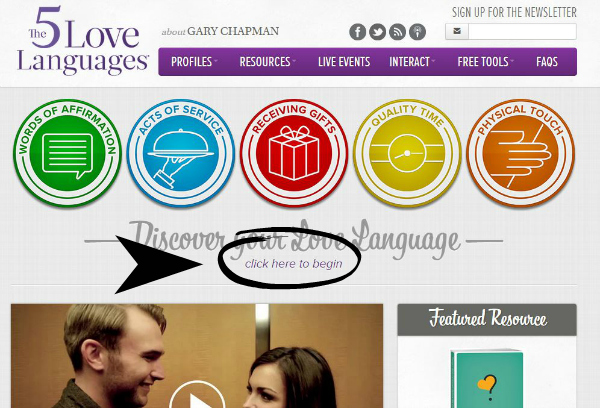 When you get to The 5 Love Languages website, click the link that says, "Click here to begin" so you can get going with your quizzes.
The purpose of this love language date is to fill each other's love tanks. It is so easy to forget how to love your spouse in their way and just use your own love language to try and do it. That only results in your spouse feeling unloved even though you are trying your best to show love. Knowing your spouse's love language could possibly be the most important part of a healthy marriage.
Once you know the other's love language, you can go through the list of absolutely free date ideas below that are based on each love language. To make it really fun, each of you should choose an idea from the category that is your spouse's primary or secondary love language. Then it will be a complete surprise and you'll have a totally fun mix and match date going on!
For example, if your spouse's love language is Words of Affirmation and your love language is Gifts, then you could read love poems to your spouse while he makes a scrumptious dessert for you (and him of course!). Understand?
Great! Go for it!
Free Date Ideas for Quality Time
Cook together
Watch the sunrise/sunset or the lie under the night sky together
Carve a pumpkin, decorate the Christmas tree, or color Easter eggs (holiday/seasonal activities)
Color together
Set goals or make a dream board of everything you want to accomplish as a couple
Play a game
Have an indoor picnic
Play video games or watch sports
Make a funny, silly, or thought-provoking video together
Share a talent with your spouse
Look through photo albums
Do a puzzle
Play charades
Turn down the lights and have dinner or dessert by candlelight
Free Date Ideas for Acts of Service
Do something the other person has been asking you to do for a very long time
Get the house clean and spotless after the kids are in bed
Let the other person teach you something you don't know
Bring your spouse breakfast in bed
Organize something together
Build something together
Menu plan together – write down each other's favorite meals and start planning them a month in advance; next date night ask a neighbor with kids to watch your kids while you go shopping for all that food, then offer to watch their kids the next weekend.
Organize your photos either on the computer or tangibly
Detail the car
Free Date Ideas for Words of Affirmation
Tell the other person what they mean to you and how much you appreciate them in your life
Talk to the other person about what a wonderful life you lead together
Share your dreams and aspirations
Sing a song to your spouse
Ask intimate questions
Read poems
Video tape the story of your love (start with how you met, then your first date, your first kiss, engagement, etc.)
Talk about highlights of the last year together
Learn about your personalities and point out what you notice in your spouse
Write love notes
Play Spouse Scattergories, Would You Rather?, or give your spouse a Love Code (ideas from The Dating Divas)
Talk by candlelight or in the moonlight
Free Date Ideas for Physical Touch
Give your spouse a massage
Have a bubble bath
Makeout sesh in your car in the garage (just a few minutes; take the baby monitor if you're worried)
Hold hands
Give plenty of hugs and kisses
Play Twister
Feed your spouse
Wrestle
Have a Naked Night (idea from The Dating Divas)
Dance
Whisper in the other's ear
Free Date Ideas for Receiving Gifts
Make dessert
Make handmade cards
Pick flowers from your flower garden and put them in a vase
Create a piece of art for the other person
Draw or paint a picture of the other person
Your spouse is the most important person in your life, and this date is the perfect time to show that. Remember to do this date night idea again even after the spending freeze challenge!
What date ideas do you have for your own love language?

Latest posts by Charlee Flaminio
(see all)