This post is part of a social shopper marketing insight campaign with Pollinate Media Group® and Huggies, but all my opinions are my own. #pmedia #KrogerLittleSnugglers http://my-disclosur.es/OBsstV
Imagine this: you've been so busy all day you have all but forgotten to change your 16 month old's diaper. By the time you wrangle him, put him on the changing pad, and get the wipes ready, he's screaming and pointing to his bum.
Oh, great, you think.
Just as you thought, the diaper rash he had a few days ago is back and worse than ever. Instead of using wipes, you spray his bottom with a bit of warm water and pat it dry.
Then you let your toddler run around the house in his birthday suit for a while to let his bottom dry off before even attempting to put any diaper rash cream on it.
Minimizing Diaper Rash with #KrogerLittleSnugglers
We've been fortunate to avoid most diaper rash flare-ups with our daughters. I can only recount maybe five times when we've dealt with true diaper rash. And I believe this is for good reason.
We do our best to prevent diaper rash in the first place.
I'm not trying to be arrogant and say that no child should ever have diaper rash, I just truly believe that our prevention methods work.
I want you to be able to prevent them as well, so let's go through some of the best ways to prevent diaper rash!
Change Baby's Diaper Frequently
A newborn will need her diaper changed much more frequently than a toddler, but that doesn't mean your toddler can go hours on end without a diaper change (yep, totally guilty!). It's best to change the diaper soon after your child has done her business. The reason why is because the more moisture that is trapped in the diaper against your baby's skin, the higher chance she has of developing a rash, mild or severe. With Bella, my two year old, I change her diaper about three times a day. Some two year olds may need more changes than that.
Think of what happens to your skin when you have a small amount of moisture trapped on it for several minutes or hours. I have very sensitive skin, so this would make my skin start to open up and bleed if it went on for long enough. It might be annoying to change so many diapers, but it's better for your child's skin and overall comfort.
Make Sure the Diaper Fits
When you notice that your child's diaper is no longer fitting properly, it's time to go up a size. It's tempting to continue to use those size 2 diapers before switching over to size 3. You don't want to waste your money on any of them! I totally get that! But if your child's diaper doesn't fit well, he may develop a diaper rash due to all the friction of the diaper rubbing on his bottom.
Use Diapers for Sensitive Skin
We have tried various brands of diapers, and guess what? We always come back to Huggies. Huggies Little Snugglers, in particular, are perfect for Bella's sensitive skin. They have a Gentleabsorb® liner, which keeps her bum dry.
Bella is going on 2 ½ soon, but we plan to wait a bit longer to start potty training her. She might be in diapers even after 3. Who knows! So it's nice that my local Smith's store carries Huggies Little Snugglers up to size 4 (22-37 lbs).
Click here to save $2 on Huggies Little Snugglers at Smith's, part of the Kroger family of stores, now through 5/30, while supplies last!
Just realize that the diaper brand you choose to use can affect whether or not your baby experiences diaper rash. Not all diapers are created equal.
Watch What Your Baby Eats
Another way to minimize the occurrence of diaper rash is to watch what your baby eats.
Steer clear of too many acidic foods. If you are just starting your baby on solids, for example, and you give him something that is highly acidic, this could cause a mild or severe diaper rash, especially if he eats a lot of that particular food. Some of the biggest food culprits are tomatoes, citrus fruits (oranges and lemons), and berries. My suggestion is to wait on these foods until your baby is one if you notice that your baby is getting diaper rash more often because of them.
This does NOT mean, however, that you should give your child a bland diet. Encourage and offer lots of variety, just limit the intake of acidic foods.
It's also possible for your baby to experience diaper rash due to something that you are eating and passing onto him through your breastmilk. Your diet, especially when your baby is a newborn, can cause a lot of problems if you eat too many acidic foods.
This next point is based on my own thoughts and opinions. It is NOT based on research. I believe one thing that can contribute to diaper rash is a diet full of processed foods, including commercial rice cereal, commercial baby food, puffs, goldfish crackers, macaroni and cheese, and more. These foods are just not a part of our daughters' diets, and I really believe that has helped to contribute to less diaper rash flare-ups overall. Again, these are my own thoughts, but it might be worth thinking about.
Choose Water over Juice
Another common cause of diaper rash is diarrhea. An illness or even a food allergy could bring on diarrhea, but one of the biggest culprits, especially in toddlers, is too much juice.
The only time my daughters get juice is when we have smoothies, once or twice a week. I put a cup of juice in the smoothie, which is then divided between 3 or 4 of us, so my girls are only getting about 1/3 cup of juice, tops, maybe two times a week. Before my girls were a year old, the only liquid I would offer was breastmilk or water. I believe that leaving juice out of their diet has been a major reason why we rarely have to deal with diaper rash. Juice has a ton of sugar anyway, so it's better to just give your child water.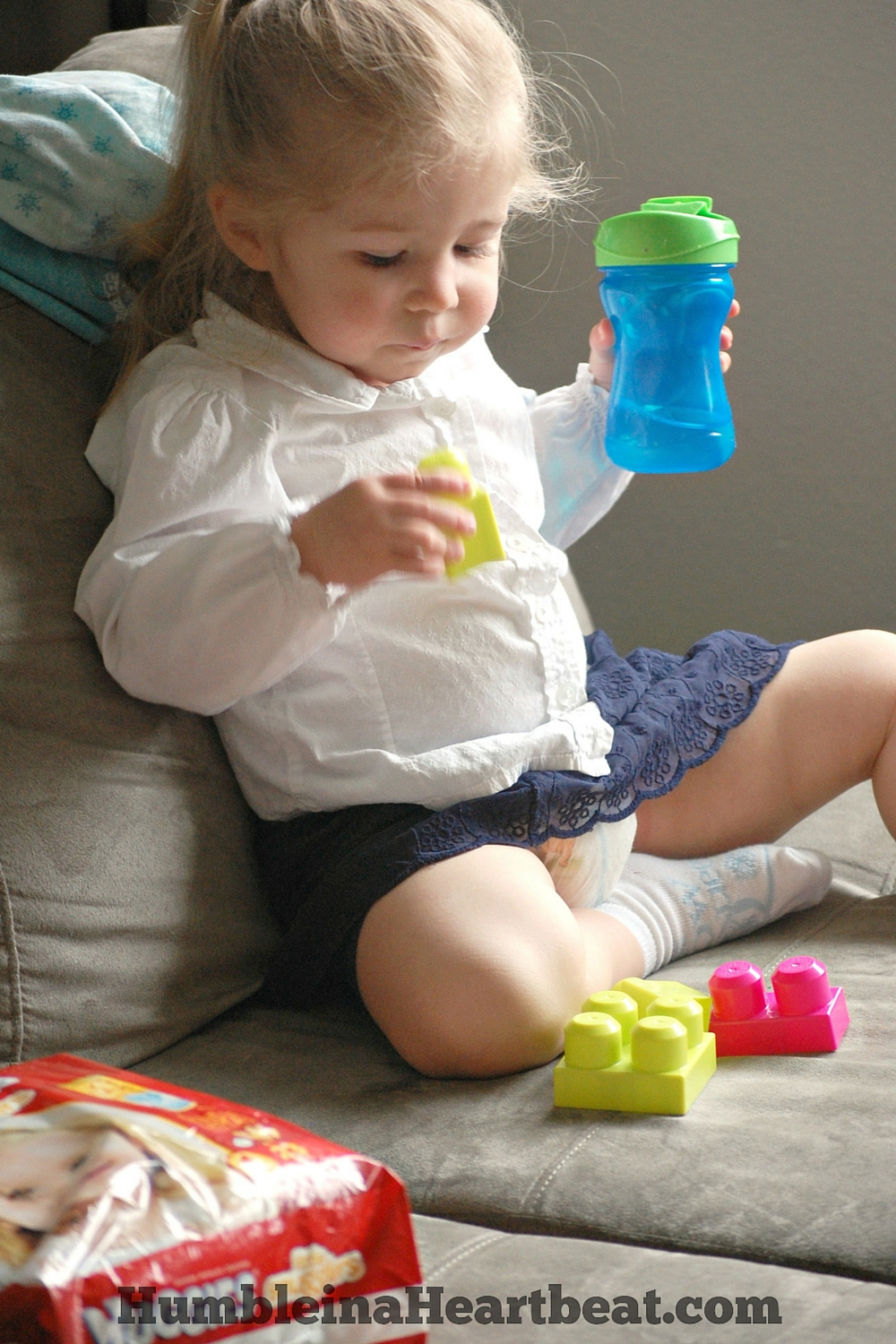 I hope you can use these tips to take care of your baby's sweet bottom! Babies and toddlers can enjoy life so much more without diaper rash!
To sum everything up, don't forget to change your baby's diaper soon after it is soiled, use a diaper size that fits your child, turn to Huggies Little Snugglers for sensitive little bums, be cautious of offering too many acidic foods, and let your baby drink water rather than juice.
These prevention methods may not work 100% of the time. For example, your baby could be teething or sick and get diarrhea, and the only thing you can do is change her bum frequently to prevent the diarrhea from causing a diaper rash. Also, if your baby is formula-fed, he may be more likely to develop a rash due to the acidity. I do believe, though, that for the majority of diaper rashes, these methods practiced daily can really help.
The information in this post is based on research and my own experience as a mom. Please consult a physician or pediatrician for your baby's particular experience with diaper rash.
How do you handle diaper rashes?

Latest posts by Charlee Flaminio
(see all)