It's so easy for me to keep my toddler girls indoors during the winter because we're usually dealing with sickness or it's just too darn cold out there! I'm sure if they were older, they'd be begging me to go play in the snow.
Of course if I yelled, "Let's go outside!" there would be no hesitation from either one. They'd yell right back, "YAY!!" and start heading toward the door without even thinking about getting shoes and a coat on. They are so ready and willing to go outside, no matter the weather.
I remember many recesses in elementary when I would stay close to the school doors huddled up in my coat. The teachers would prod me to go play, but I just wanted to go back inside. Cold weather, snow, running around in the ice cold wind, it just wasn't my forte.
But here I am now, a mom to two very curious and adventurous toddlers who want to go outside to play! I know it's in their best interest to get outside at least once a day, but instead of pressuring myself to have outside time every day in the winter, I think I'll aim for at least once a week for now. And, you know me, if it's going to happen, it had better be written down on the calendar!
A Winter Bucket List Perfect for Babies and Toddlers
We could go outside and just romp around on the dry ground or snow (whichever happens to be there at the moment), but I thought it would be fun to put together a winter bucket list for toddlers and babies so that we can have a little variety and they can experience some great stuff while they are little.
Here are the things I want to do with my girls this winter (mostly related to snow). If the weather is too bad to go outside, you might like the last two ideas on this list.
Catch snowflakes on your tongue
Make a snowman – the same height as the child
Go sledding
Make snow angels
Throw snowballs
Watch snow melt in your hand
Drink hot cocoa
Paint the snow
Shovel a neighbor's driveway
Make paper snowflakes
Indoor picnic
I didn't include anything Christmas related on this list because those things only happen in December. The ideas on this list can happen from December until March (and sometimes November, April, May, and June!)
And don't forget to snag a free printable winter bucket list for your baby or toddler! Click here to download now.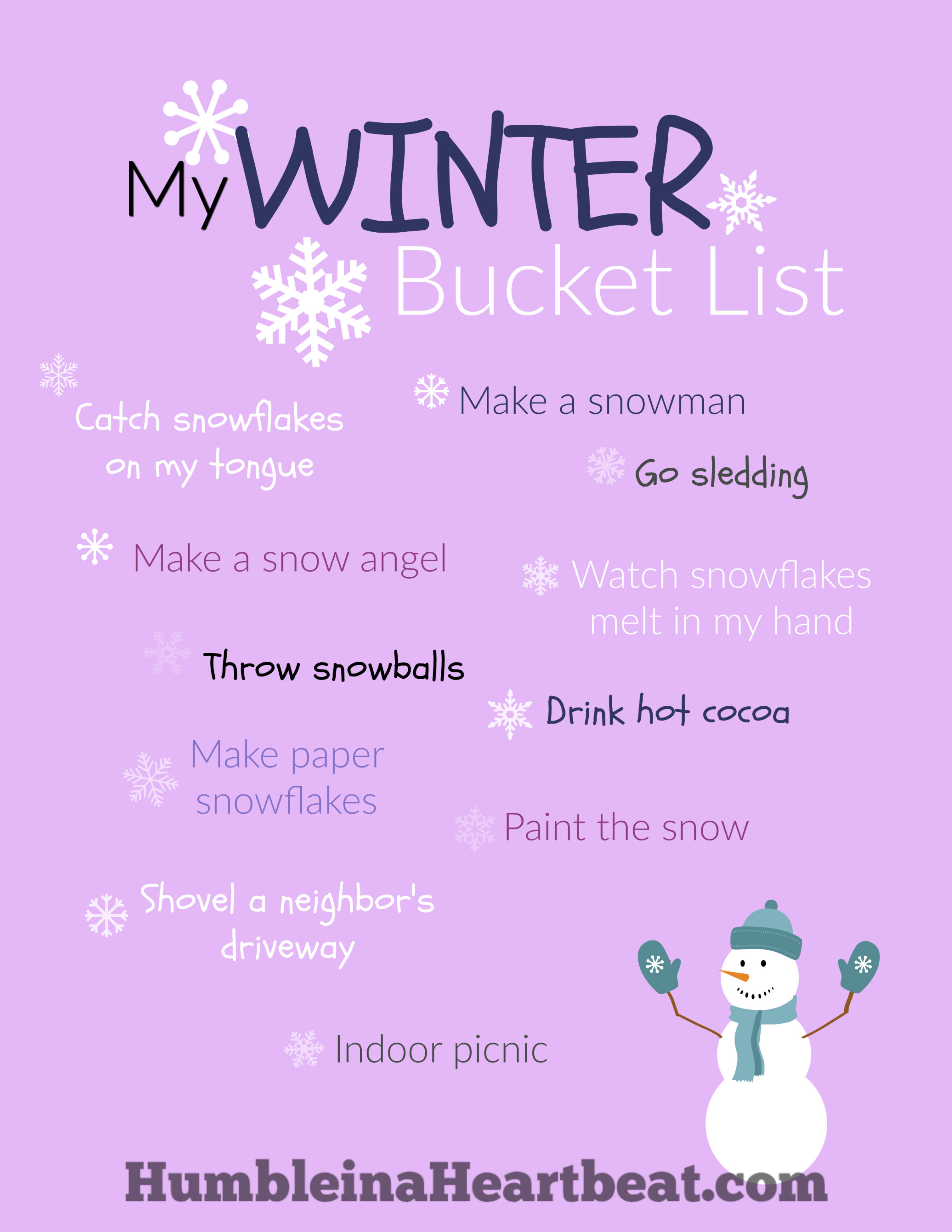 Don't stay cooped up indoors this winter with your baby or toddler! Get out there and enjoy the freshly fallen snow!
What's your favorite activity with young kids in the winter?

Latest posts by Charlee Flaminio
(see all)