Warning: There is a lot of math in this post. Prepare your mind! 😉
Before you decide to become a one-income family, you should do some pre-planning to find out if you are really ready. It's easy to assume that you will be just fine living with a little less until a couple months or a few years go by and you realize that it's not as easy as you thought. What you need to do months, and maybe even a year or two, before the change is estimate income and expenses after your income drops to see if it is doable or not.
© sergign / Dollar Photo Club
Current Income and Expenses
What you are living on right now will likely have to be adjusted significantly to be a one-income family. It will be easy to project expenses if you currently budget, but if you don't, start a budget now. It will be the driving force to making sure living on one income works.
Assess Current Income
Take a look at your current income. Is the income that you will be dropping fairly significant? If it is 50% or more of your combined household income, you may have to make more drastic cutbacks than you would if that income was just 25% or less.
Throughout this post, I will be using a hypothetical couple, Joe and Sally, to evaluate their income and expenses. They are planning to go to one income soon. They want to have a baby and Sally wants to be a stay-at-home mom. All the numbers are completely made-up.
The pie chart below is a visual representation of how much Joe's and Sally's incomes contribute to the total household income. Sally makes $3,300 each month and Joe makes $5,400. For simplicity's sake, these numbers are after taxes.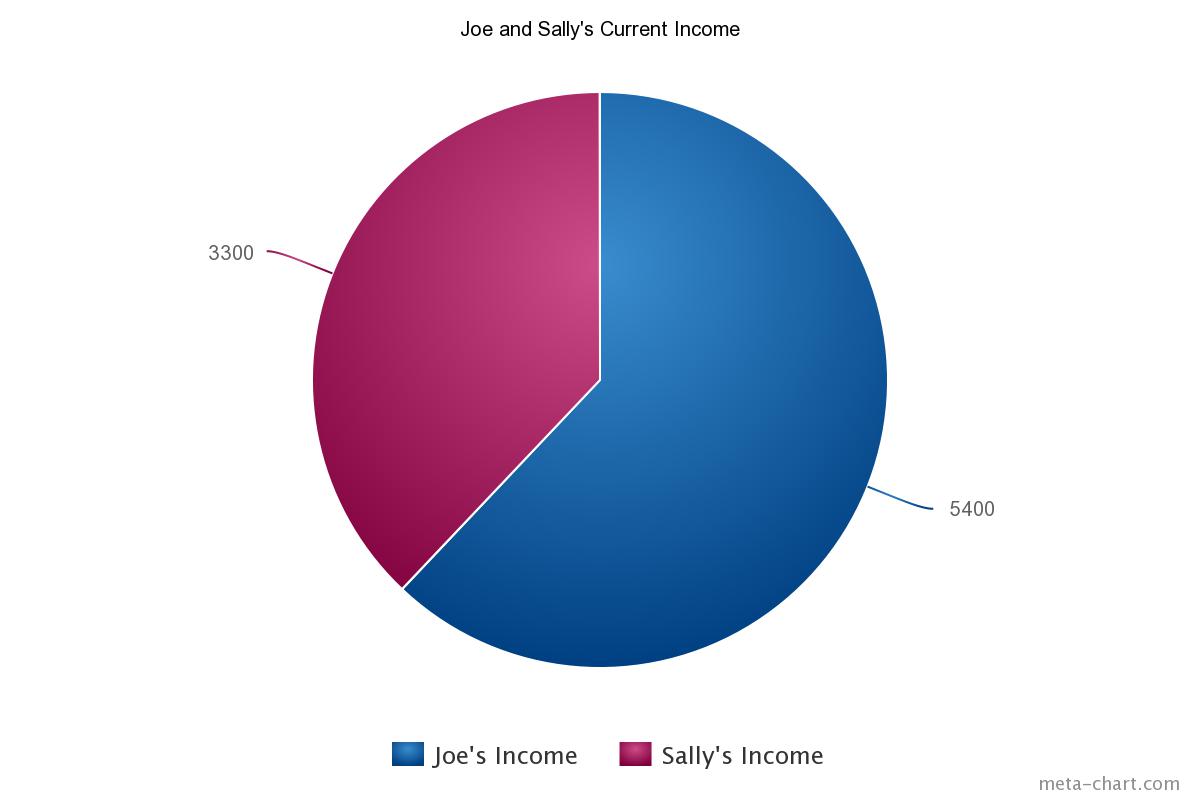 Here's how you can figure out your own percentages. Open up an Excel spreadsheet and follow these steps:
1. In a blank cell, write your spouse's name and then income (i.e. Joe's Income).
2. In the blank cell right below that one, write your name and then income (i.e. Sally's Income).
3. To the right of these cells list the respective incomes.
4. Underneath "Sally's Income" write, Total Income.
5. To the right of that cell, add up the two incomes for a total.
6. Now, to the right of the individual incomes, put this formula =(Joe's Income)/Total Income to get a percentage.
See below for an example: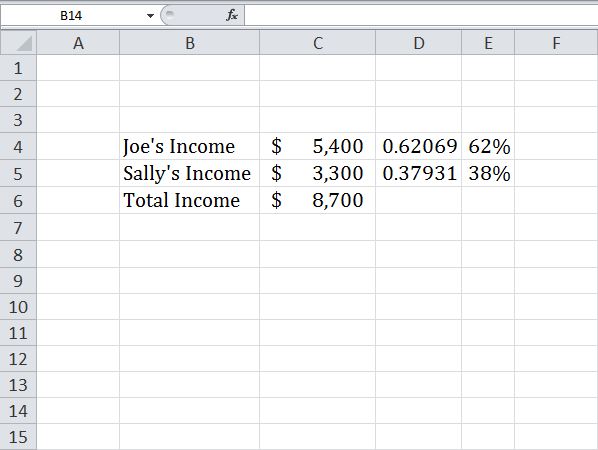 In the example above, Joe's income is 62% of the total household income. Since Sally is the one quitting her job, they will have to figure out how to live on just 62% of their current income.
Determine Current Expenses
Now take a look at your current expenses. Do you know where your money is going each month? Is everything necessary or could you cut some things out pretty easily? Becoming a one-income family means you'll have to reduce some of your expenses somehow. Some expenses might have to be completely cut out and some should be reduced.
Here are Joe's and Sally's current expenses. The numbers are completely made-up and some might be very exaggerated, but they are to help make a point in the end. As I was writing out this make-believe budget, it actually made me pretty sick thinking about all the money these fake people make and where it's going each month. We've gotten so used to just a couple expenses in our own budget that the other stuff seems really unnecessary.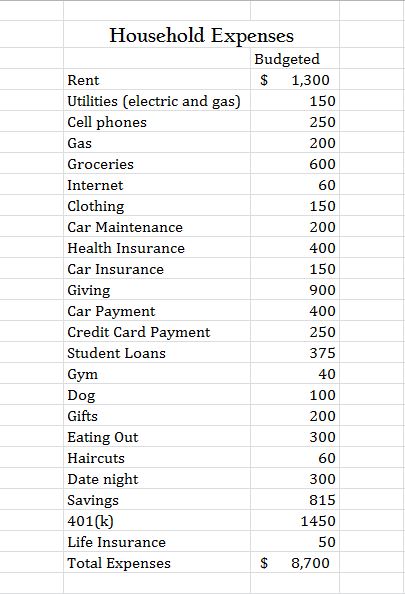 You can see that Joe and Sally contribute to their 401(k) and have health, life, and car insurance. That's great.
When Sally quits her job, they have to cut their expenses down to just $5,400, which is Joe's current income.
Estimate Future Expenses
Now you should start to estimate what your expenses will be when you are down to one income. Let's take a look at Sally's and Joe's projected expenses.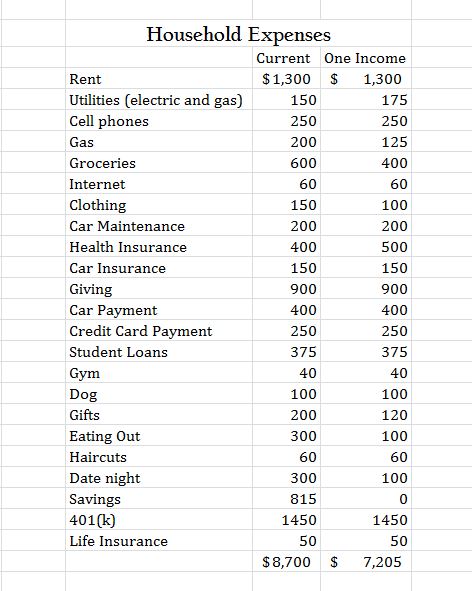 Here are some things to note about why I projected some of their expenses to fluctuate:
Utilities might go up because if Sally is home all day she will probably use more electricity and gas.
Gas for the car will likely go down since Sally doesn't have to drive to work anymore.
Groceries might go down if Sally learns how to meal plan and stock up when there is a sale on some food they eat a lot.
Clothing will probably go down since Sally doesn't need work clothes anymore.
Health insurance might go up if Sally and Joe have a baby.
Gifts will have to go down to make more room in the budget, and Sally can make a lot of the gifts they give since she will be home now.
Eating out has to be reduced.
If Sally and Joe have a child, their date nights might have to be less often or they will want to spend less on them.
Savings is completely cut out.
You see, even after all those cuts, Sally and Joe are still over budget. They need to get down to $5,400 since that is the income they are keeping when Sally quits. In total, they still need to cut out $1,805 from their projected expenses to break even each month.
Project Bare Minimum Expenses
You will probably want to write out a second budget that has just the bare minimum of expenses. This will give you a better idea of what you might have to live like for the first little while.
After lots of thought and discussion, both Sally and Joe came up with a bare minimum budget for when Sally is no longer working. Here's what it looks like: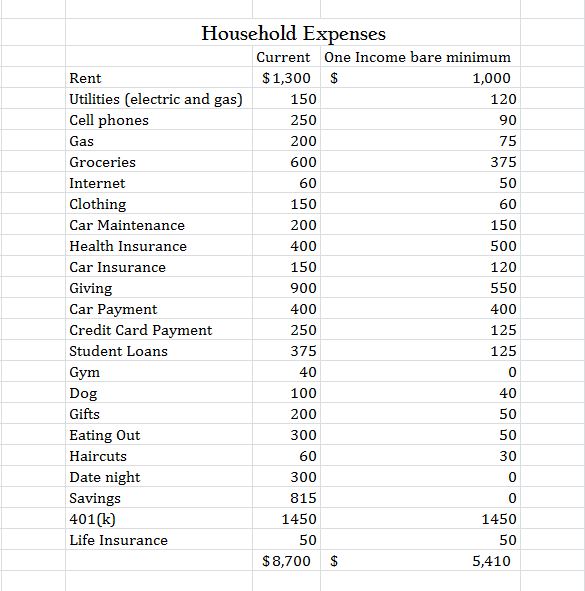 Here are some things to note about these fluctuations:
They decided they can move to a lower cost-of-living area and save $300 a month.
The rates on utilities are a bit lower for the apartment they will rent so that will also save them some cash.
They decided to get rid of their expensive cell phone plans and go with $45 unlimited plans through another company.
Since their apartment is closer to Joe's work, they will spend less in gas money.
Sally can learn to do a little couponing to save some more money on groceries
They can probably lower their internet bill just by calling their provider and asking for a discount.
They know they can use coupons and shop sales to buy clothes.
Joe said he will try to learn some things about their car so he can do the oil changes and maybe a few other minor things to save them some money.
They could call their car insurance company and lower their monthly rate by getting on a 6 month payment plan and evaluating their needs. They will still budget for car insurance each month but they will pay it every 6 months.
They will slash giving down to $550, not out of selfishness, but to find more room in the budget for the things they need.
Their credit card and student loan payments each have a minimum payment of $50, so they will reduce how much they pay towards each to just $125.
They can cut the gym out because they can workout at home or in their neighborhood.
They could reduce their dog expenses to $40 since the dog only really needs to be groomed every 2 months and they can start buying cheaper dog food.
Gifts can be lowered to just $50. Their friends and family might complain a little, but Joe and Sally will find a way to still make sure they feel loved.
Eating out will be hard to lower to $50, but they can do it since Sally will learn how to cook and can make all of Joe's lunches for work.
Haircuts will be a sacrifice for Sally since she is used to going to the salon every 6 weeks. She will cut back and only go every three months and she will go to a cheaper place.
Date night money will have to be cut out.
Nothing will be contributed to savings unless they can continue to adjust and make room in the budget.
As you can see, it is really hard to decide to go to just one income when that means cutting back on things you have always had. Fortunately, Joe and Sally are doing these projections about a year before they would like to make the changes so that gives them time to learn how to live on less now. Their projected budget is still over by $10, but surely they can find a way to live below their means before the change happens.
One thing I am very concerned about with Sally and Joe is that they have nothing budgeted for savings. In order to remedy this, they will have to consider one of their biggest expenses: their cars. They might try to sell one of their cars and get a cheaper alternative in order to save on car payments, gas, car maintenance, and car insurance. Whatever they do to save more money, they should try to put at least something in savings.
When I was doing this fake budget, I completely forgot to consider additional expenses that the couple would probably have when the baby arrives. For whatever reason your family is going down to one income, there might be different expenses once the change happens. With a new baby, Joe and Sally might expect formula to be added to the budget, for example, as a just-in-case scenario.
When we were preparing to go from two incomes to one, we didn't do this detailed analysis. It would have been so useful! We did save money each month knowing that we would have hospital bills to pay after the baby was born.
I would highly recommend that you go through this process if you are thinking of going from two incomes to one. You can do several different scenarios and plan ahead so that the transition will be smooth and you will hardly notice a difference in lifestyle. I do believe that any family can live on one income. It might take sacrifice at first, but if it's what you want, you will find a way.
What would you have to change in your budget to make the one income lifestyle work?

Latest posts by Charlee Flaminio
(see all)