If we hadn't had our daughters so close in age and we had three bedrooms on the top floor of our house, I know I would still be putting our 1-year-old in her crib. But because our daughters are just 18 months apart and our upstairs only has two bedrooms, we decided to transition our oldest daughter from a crib to a toddler bed at just 20 months of age.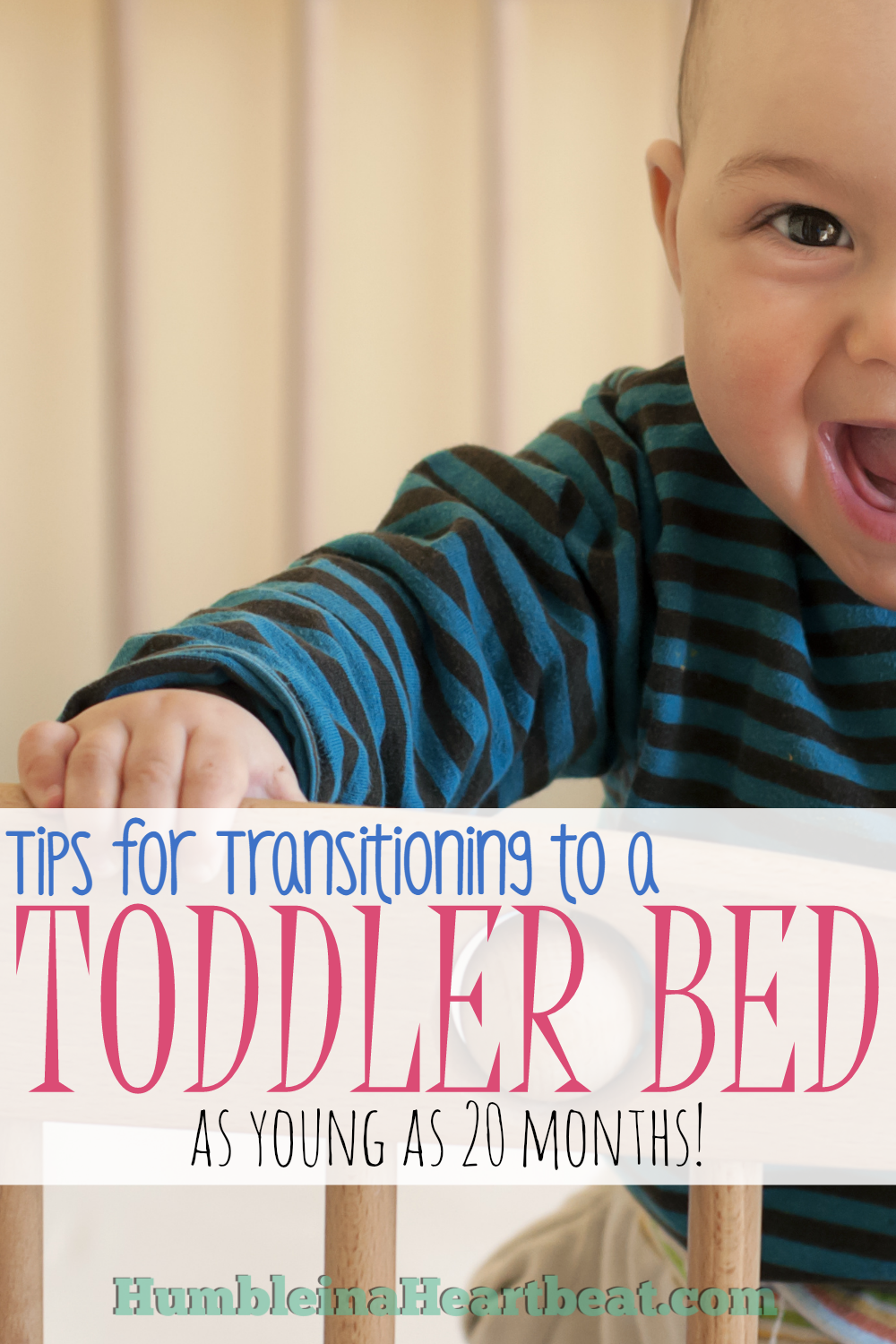 Disclosure: This post contains affiliate links (I've put a * by any link that is an affiliate link). This basically means if you click on a link that takes you to Amazon, and you make a purchase, I will receive a small commission from your purchase. Thank you for supporting Humble in a Heartbeat!
We started the transition at the end of March. Bella was still sleeping in the bassinet, and she was almost 3 months old. We wanted to get Sofía into a big girl bed by the time Bella was 3 months old since we needed the crib for Bella. We started by purchasing a bed for Sofía. Papi bought her a pink one with Disney princesses*
on it (the link takes you to the exact bed Sofía has; however, we did not buy it on Amazon). She was ecstatic about her new bed.
Sofía was laughing and running around her room, and the house, while Papi was putting her bed together. It was only a few minutes after her bed was set up that I heard some unusual raucous coming from her room; I went in only to find her jumping on the bed with her older boy cousin! She was so excited that she even wanted to sleep in the bed during nap time that day. All in all, everything about the transition was going way smoother than I expected.
Until bedtime came that evening.
Suddenly, Sofía was afraid of her new bed. I tried to put her in the bed, but she started to cry and clung hard to me. She only wanted her crib, so I didn't make her sleep in the bed that night. I decided to take one tiny step at a time. She would sleep in her bed during naps, and I would ask her if she wanted to sleep in the bed every night until she finally got comfortable enough.
It was only two nights later, and she was sleeping in her new bed. I was a bit surprised by how fast it all happened!
Tips to Transition Your Child to a Toddler Bed
From this experience I learned a few key things about transitioning a 1-year-old from a crib to a toddler bed:
Watch for Readiness
I know that if Sofía had been just two months younger when we put her in a bed, the transition would have been a lot longer and emotionally draining on all of us. Sofía seems to be very mature for her age, probably because she is a girl and is an older sister now, so I could tell she was ready. Just make sure your child will be able to handle the transition before you even think about it.
Talk About the Transition
We never talked to Sofía about getting a big girl bed, but I think this could have helped. Repetition is the best way children learn, so talking about moving from the crib to the bed often is probably a great way of easing them into the idea and preventing any fear of this change.
Get a Bed Your Child Will Love
Sofía actually went with her Papi to the store to pick out the bed. She didn't pick out the bed for herself, mainly because she was so distracted by everything else around her. If she had been older, she probably would have been more involved. When a child chooses something for herself, she will be even more excited about it.
Involve Your Child in Building the Bed
While Papi was building the bed, Sofía was running around him. She may not have been helping him, per se, but she saw him working on it, and he kept telling her that it was her new bed. If you have a boy, he will definitely enjoy helping Daddy put his new bed together!
Take Baby Steps
I wouldn't force your child to start sleeping in the bed right away. If he is wary of the bed from the get-go, don't even put him in it for naps yet. Just let the bed be in the room and talk about it with him. Certainly, he will show some sort of curiosity after it's been there for a few days. Start by letting your child sleep in the bed for naps. Ask every night if he would like to sleep in his big kid bed, and it will happen soon enough.
Remove Distractions
One of the biggest hurdles about transitioning a child from the crib to a toddler bed is that they are now free to roam. Sofía has now slept in her big girl bed for 2 months. At first, she would get out and start playing with her toys during nap time. If she didn't want to go to bed, she would go to her door and start knocking on it. Ha ha. Now, she only gets out of her bed maybe once every two weeks, only if she is too wound up to lay down. I learned that you have to keep the toys in the closet (if there is a door). I still leave the books out, though, since she sometimes wakes up before nap time is over. I allow her to do quiet things for the rest of nap time when she wakes up earlier.
Transitioning a child to a toddler bed, even as young as 20 months old, can be easy and smooth if you follow the above tips. Overall, the experience will be a happy one once they know how exciting a toddler bed can be!
Have you ever transitioned young child to a toddler bed?
Was this a helpful post? Pin it!
Thank you for reading this post! If you liked it, please share it on Facebook or Pinterest. 🙂
Please sign-up for my weekly newsletter if you want to keep up with Humble in a Heartbeat.

Latest posts by Charlee Flaminio
(see all)