*This is the 26th day of the One Month Spending Freeze Challenge. Please click here to see all of the posts in this series.*
Everyone knows that the best things in life are free. You need to take full advantage of that fact since you cannot get pleasure from buying things right now.
I remember reading an email back in junior high (you know, one of those chain mail forwards) all about life's simple pleasures. One of the pleasures was warm clothes from the dryer. I had never experienced that, so I didn't understand why it would be so great. For much of my childhood, we didn't have a working dryer, and we would hang up our clothes to dry.
The first time I felt warm clothes from my dryer, I.was.in.heaven!
Basically, everyone's simple pleasures will be unique to them depending on their life circumstances and where and how they grew up.
Some of Life's Simplest Pleasures
Below I have listed several of life's simple pleasures, but you may or may not agree with them. You can definitely come up with your own list, and use mine as a starting point.
Watching a sunrise/sunset
Sleeping in
Reading a book under a blanket with some hot cocoa
Taking a walk in nature
Opening your windows early in the morning in spring and listening to the birds whistling
Listening to stories of your family's past
Reading poems out loud with your spouse
Enjoying the day as if it were the first day of your life
Enjoying your kids and just watching them play and laugh
Enjoying your pets
Singing at the top of your lungs in your car at every stop light
Warm clothes fresh from the dryer
The first snowfall of the season
Listening to the rain falling on your roof
The sound of a leaf crunching under your foot
Whether you are doing a spending freeze or not, it's so important to remember that some of the best things in this life are free.
Free Printable Quote
Print out the printable quote below (download it here), frame it, and put it somewhere in your house to help remind you that you need to enjoy the simple things that are free.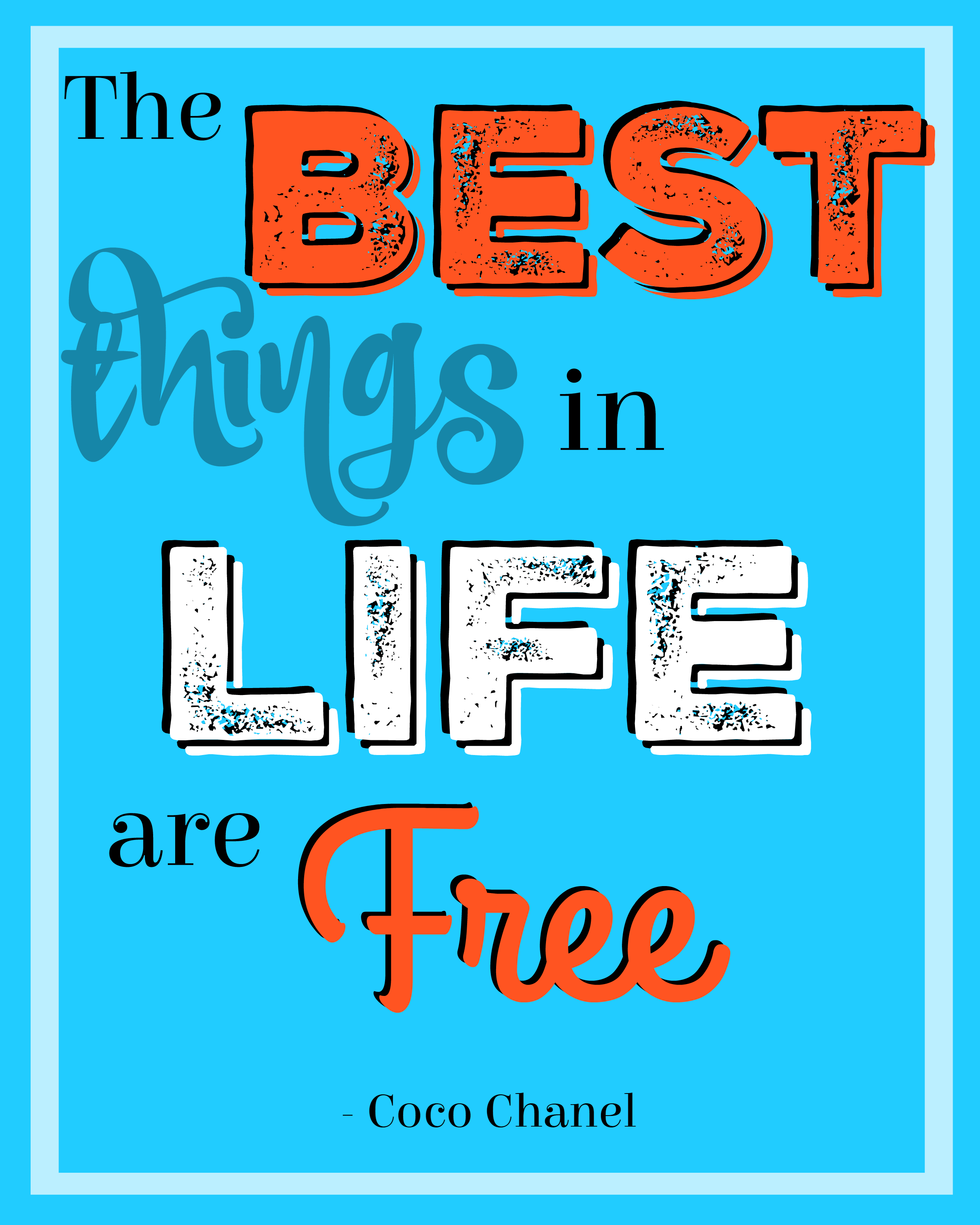 What free things in life do you enjoy immensely?

Latest posts by Charlee Flaminio
(see all)