I was not paid to write this post. I received a product to review, and I will only review products that could benefit my readers. The opinions in this post are completely my own based on my experience.
---
I was recently given the opportunity to review This is My Life Planner, a beautiful 2015 day planner from Melissa at A Virtuous Woman. It is definitely one of those planners that helps you handle almost everything.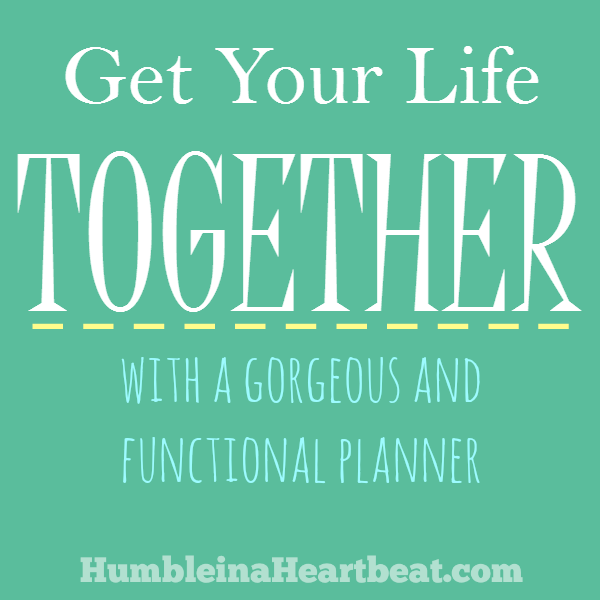 The 2015 "This is My Life" Planner contains 12 monthly calendars, weekly menu pages, weekly planning pages, holiday planners, bucket lists for different seasons, journal pages, and so much more. The planner is available in both print and PDF, and there are options to purchase additional pages.
I have always been a journaler, and I used to get a planner every year and write down everything that happened in there so I could go back to my journal later and write. Unfortunately, I didn't get a planner this year, which probably explains why I've been so scatterbrained and forgetful, especially with our finances. I'm so glad I had the opportunity to review "This is My Life" Planner, and I'm already pumped for 2015 to start because of it! It's really going to help me get my life together.
I am most excited about using the menu planner. One reason is because I keep a menu planning spreadsheet on my computer, and I never print it off. Sometimes I forget to look at the spreadsheet, and we end up wasting food because I didn't make a specific side or treat I was going to make and the food goes bad. Not anymore, folks! I will be writing in the menu in the planner every week so I know exactly what I've planned and I stop wasting money!
The other aspect of the planner that I absolutely love are the daily and weekly checklists for organizing and cleaning. Alright, I've got a confession to make. I'm severely lacking in organizational AND cleaning skills, guys. I've just never been great at doing either one, because I always have to do something else (i.e. take care of children) or when I have free time I want to do something else (i.e. cook, write, read, etc.). The weekly tasks in the planner are mostly different every week. You probably wouldn't catch me cleaning or organizing unless I've written it down on a list, because I'm a very visual person, and I also like to check things off as I do them. Hopefully, these lists will give me the push I need to get things done.
The pages for planning holidays are incredible. I'm a holiday junkie, so I'm always thinking of these grandiose plans for holidays, but then I never follow through with them. My problem? I don't write down my plans! The holiday planning pages are the perfect solution to my problem, eh?
The beginning of the planner has a lot of thought-provoking questions and pages to figure out how you are spending your time. My favorite part of this section is the Family Mission Statement. I had never even considered writing a family mission statement in my 6+ years of marriage. We sat down the other day with our toddler while the little one napped and talked about some things for our mission statement. Okay, okay. So the toddler didn't really sit down with us. She ran around the room and yelled over us as we tried to talk to each other. Haha. We didn't write out our mission statement yet, but our little meeting helped us think about it, and hopefully we'll come up with something in the next few weeks. THIS pin on Pinterest was where I found the questions to discuss the mission statement as a family.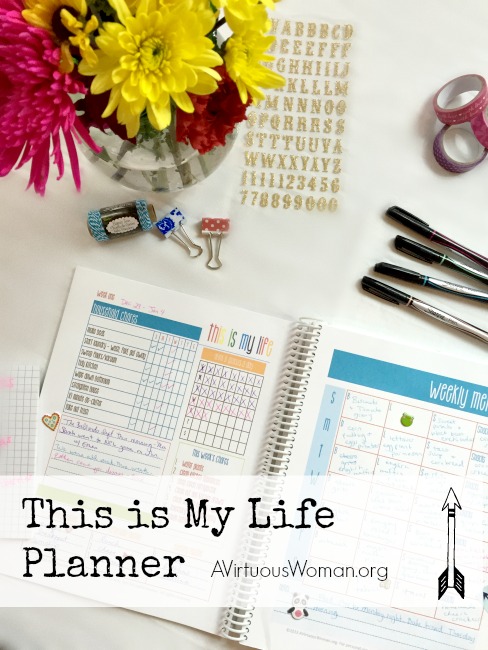 As for the technical aspect of the planner, I was a bit disappointed. I received the PDF file in color (not complaining, it was FREE for me!), but the PDF file is really for those who have a great printer at home and can get their ink for cheap. I have a pretty decent printer, and it even prints in color, but I wasn't so sure I could justify the cost of printing in color. Since there are 172 Pages, I was afraid I would run out of ink in the middle and have to buy more. Ink ain't cheap, that's for sure!
Instead, what I did was send the file to Office Depot to print. The cost to print in color was astronomical ($100+!), so I printed in black and white (sadly 🙁 ) and paid less than $20.
If you think it will cost too much to print from home, buy the planner that is already binded for you! It's a great alternative, comes in color, and will surely help you keep your house running smoothly. You can also purchase the PDF version specifically in black and white, and that way it will look a lot darker than mine turned out.
Do you use a planner to keep organized and keep track of things?

Latest posts by Charlee Flaminio
(see all)