It took me awhile, but I finally finished. Whew!
Update on Deleting Pictures
Back in July, I started deleting pictures from our computer that we really didn't need. It was then that I shared the criteria for deleting the pictures, and I said I'd work on it for an hour each week. I'm all caught up now, and it feels so good.
It might have taken me 4 months to finally get through deleting all those pictures from 2007 until now, but now I have more space on my computer and I know that the pictures I kept are much more worthy of being printed out.
Here are the numbers from the beginning of July until the beginning of November:
Hours spent deleting pictures: 15 hours and 20 minutes
Number of pictures deleted: 4,458
Amount of space saved on my hard drive: 7.85 GB
It's crazy to think I was holding on to so many pictures that were just taking up space.
Ok, I'll admit that once I got to pictures of my baby girls, I couldn't delete some of them. There were a few that were blurry, but their faces were just too cute I couldn't bare to get rid of them! The picture below I debated deleting because the background is distracting to me. I decided to keep it since we only have a few pictures of my babies and me.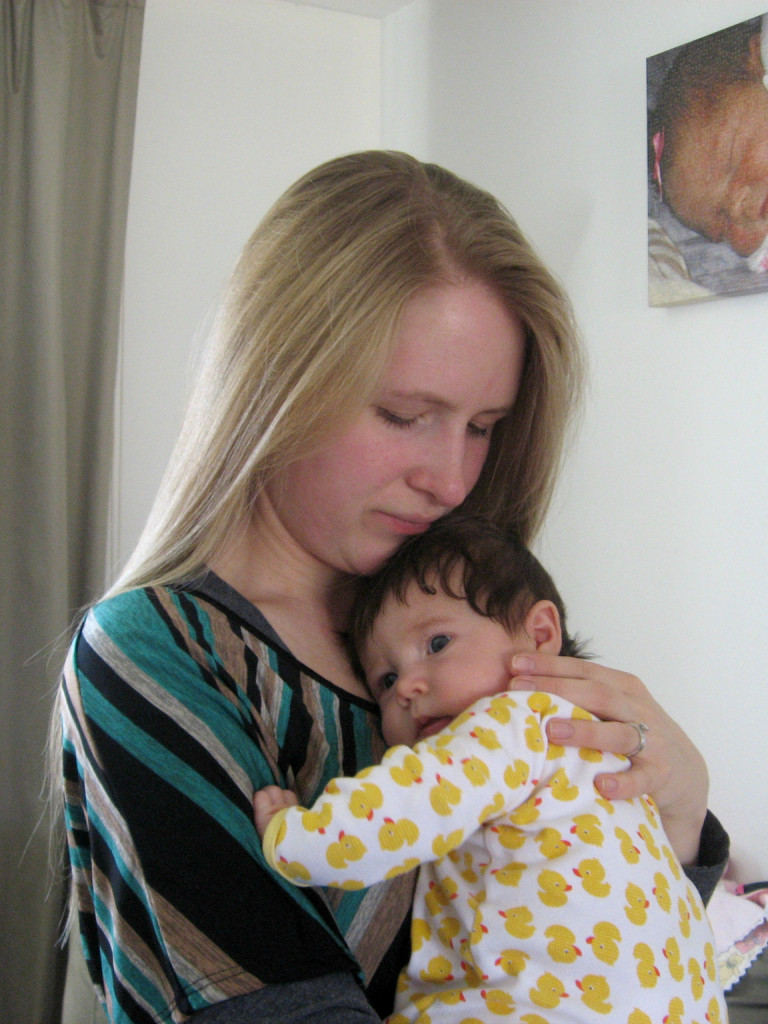 Also, when it came to my wedding pictures, I kept a lot that met my criteria for deleting pictures. I want to share that day with my kids, and some of the pictures didn't quite turn out, but they still tell a story.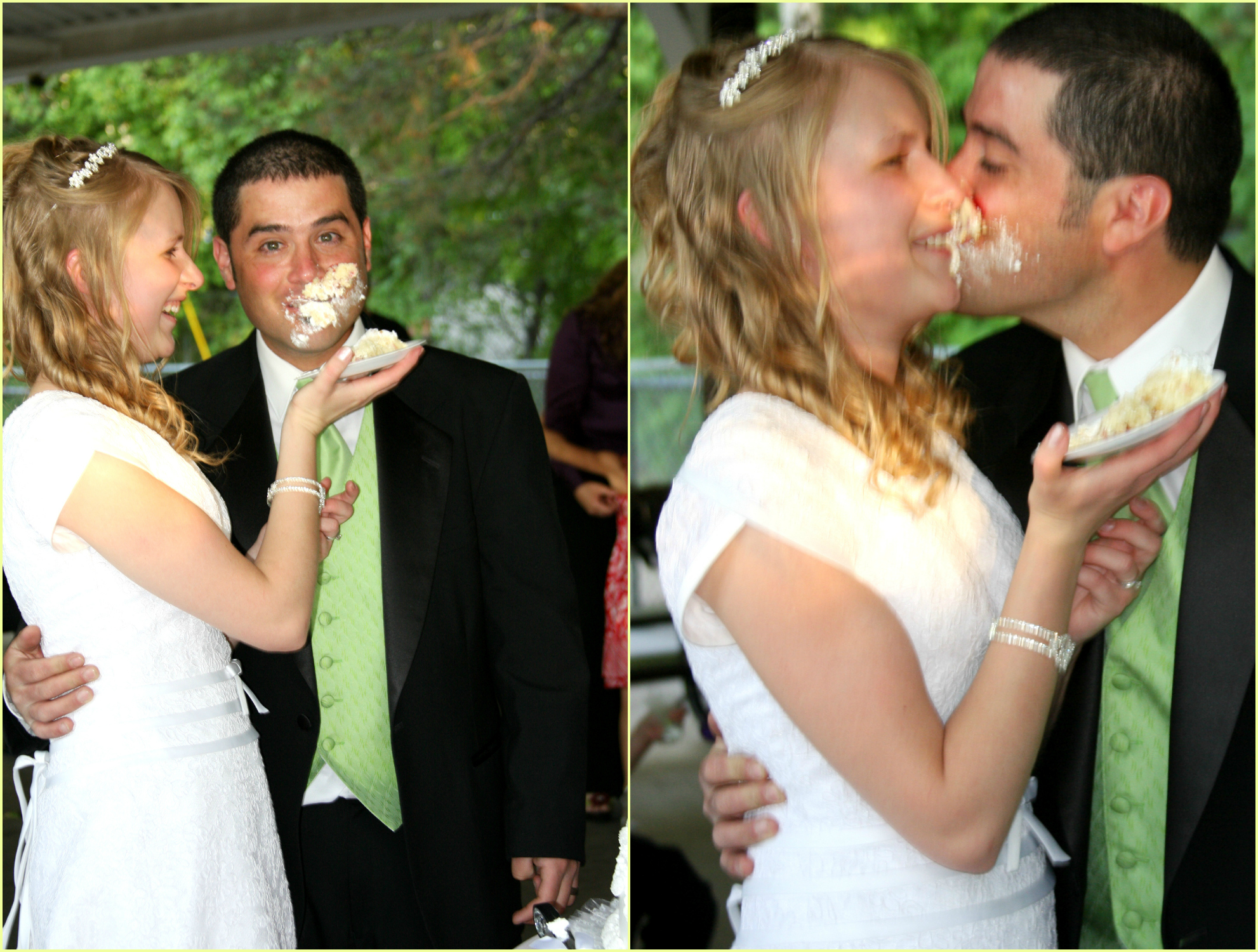 Case in point.
Renaming Pictures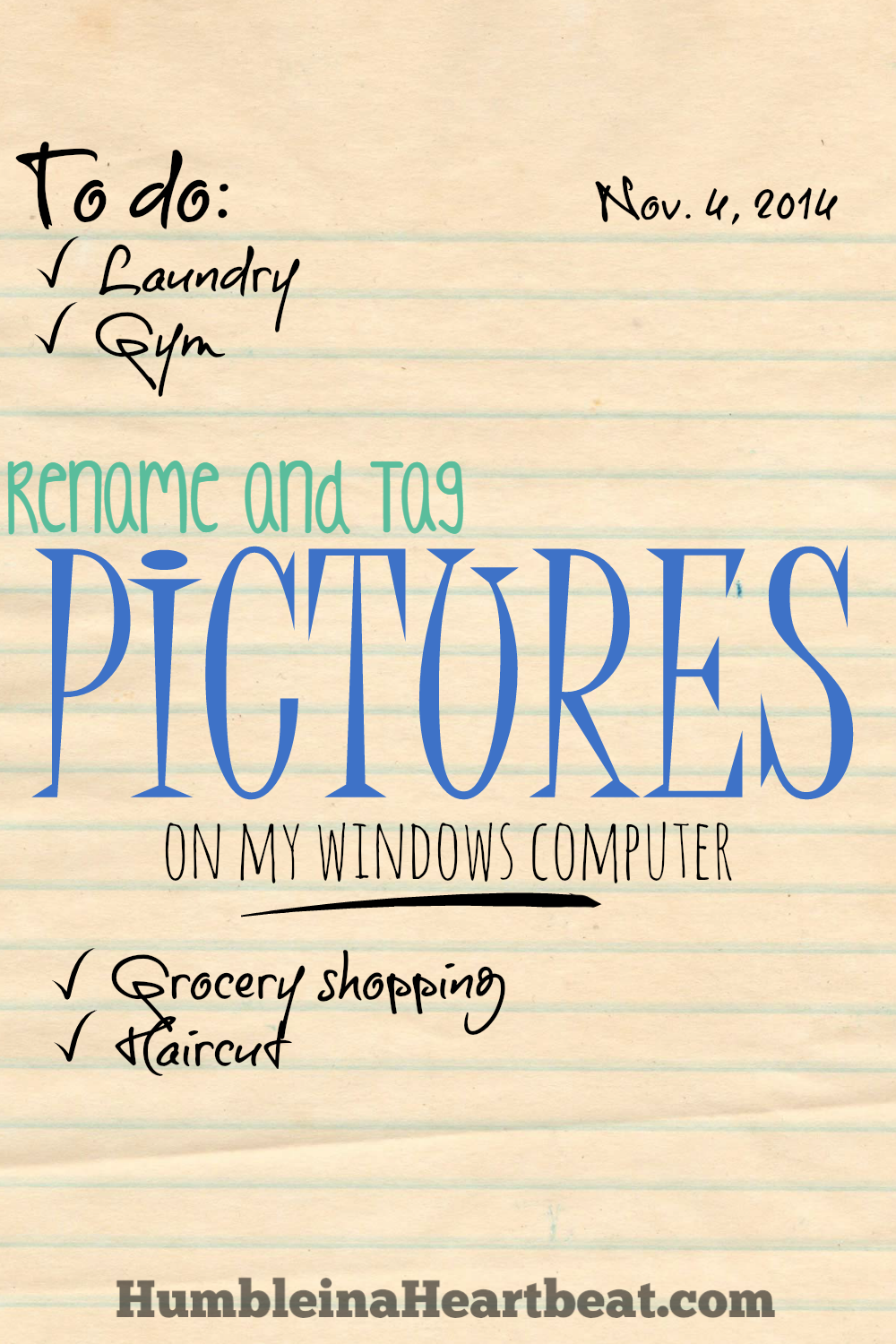 The next task I need to tackle for my basic photo organization challenge is to rename pictures.
I really could care less for picture names like "IMG_0379" or "DSC_0056". They don't help me find a specific picture when I am searching for one. That is why renaming pictures (preferably groups of pictures from certain events) will be so helpful.
Do you know how to rename your pictures on a Windows computer? Here, I'll show you. 🙂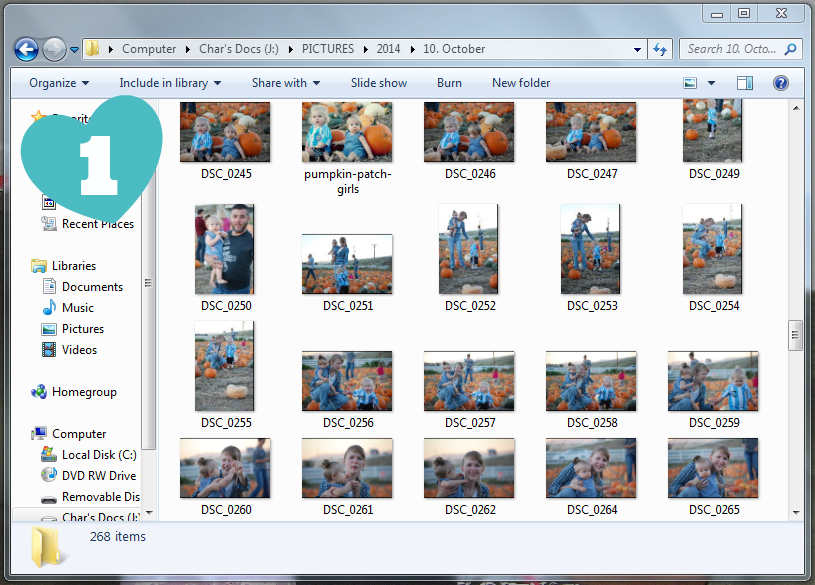 Find a group of pictures on your computer that are all from the same event.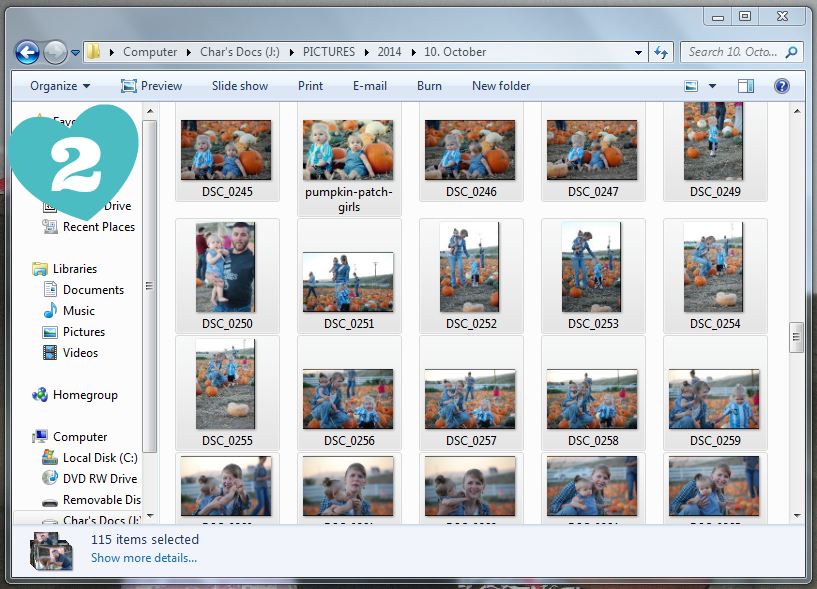 Click on the first one and click + SHIFT on the last one you want to rename. I clicked on "DSC_0245" and clicked on the one under "DSC_0259" and held the SHIFT button. This selected them all.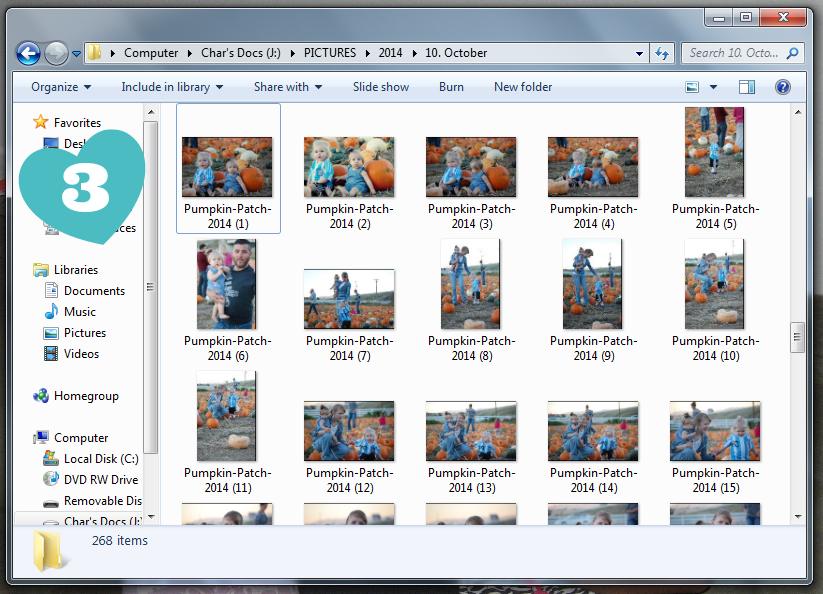 Now you should right click on the first one while they are all still highlighted, and choose "rename" from the menu. A little box will be there for you to type whatever you'd like. I typed "Pumpkin-Patch-2014" and pressed ENTER. This renamed all the pictures that I had highlighted and gave each of them a number.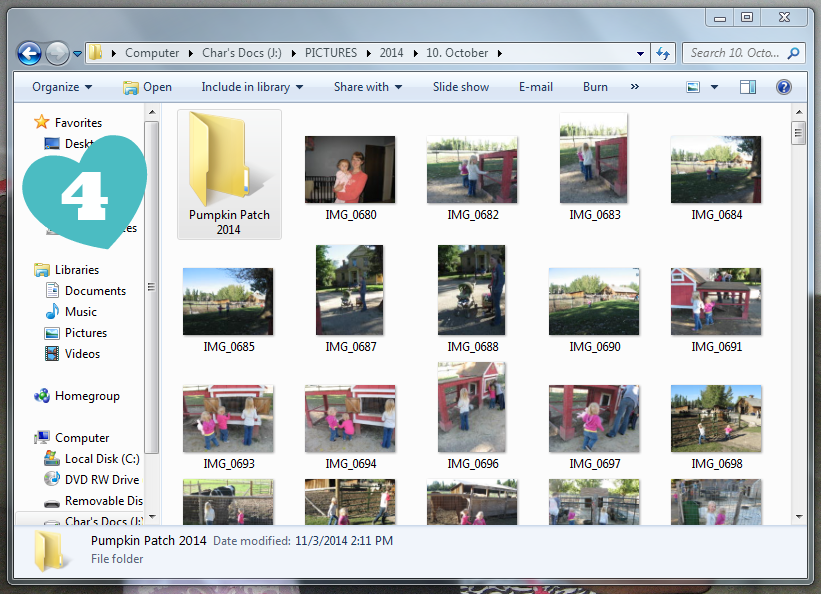 Now you can create a new folder and move all those pictures to the folder.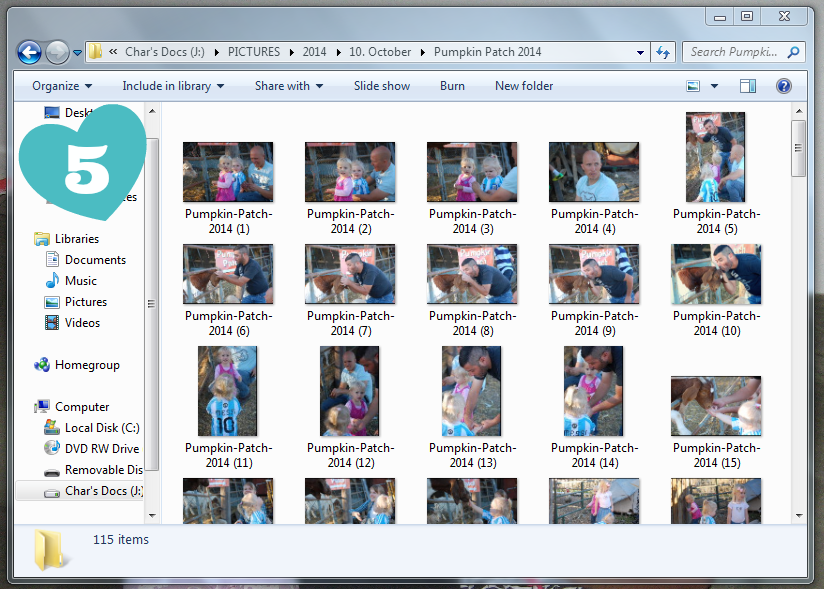 Now I have a folder "Pumpkin Patch 2014" within my October 2014 folder. Easy peasy. Pudding pie.
Tagging Pictures
While I am renaming pictures, I might as well tag them, too. I think this could be the most time consuming task, but there is a way to tag in batches. Let me show you first how to tag a picture.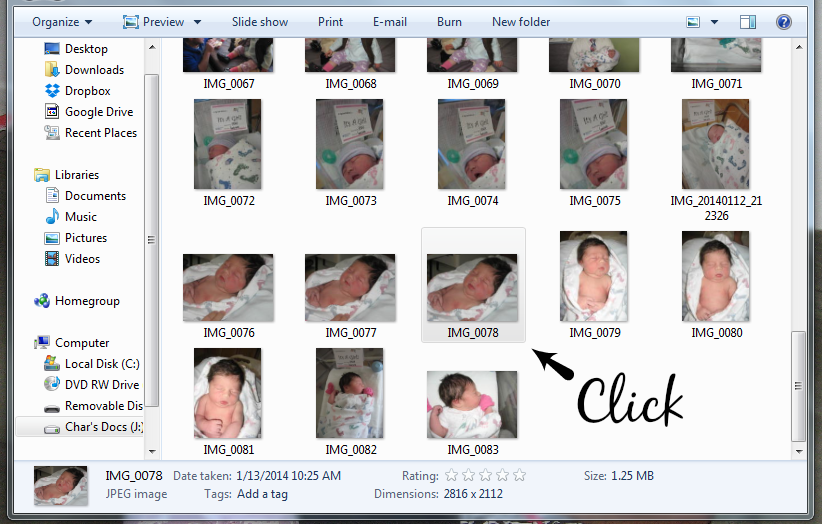 Click on the picture you want to tag.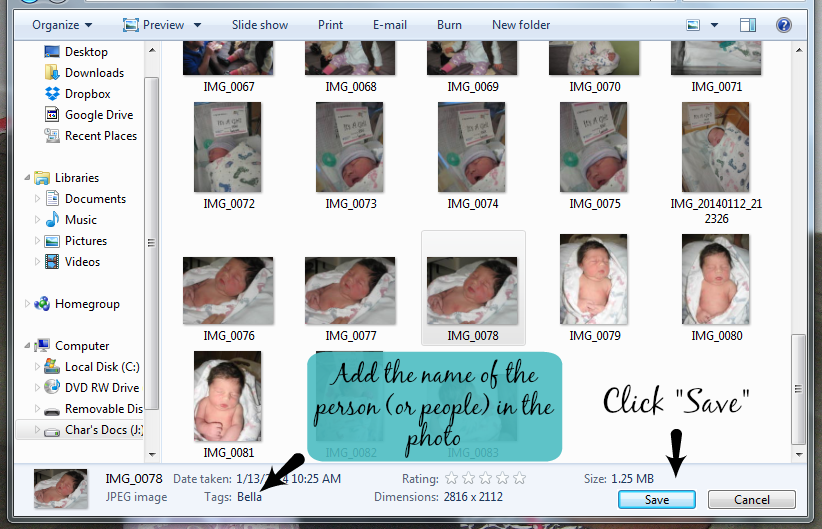 Down below where it says "Tags," type in the name of the person and then click "Save."
To tag in batches, click on each picture while also clicking "Ctrl." Once all the pictures you want to tag are selected, type in the name and save. By clicking "Ctrl" instead of "Shift," you avoid problems if one of the pictures doesn't have the person you are tagging in it. In other words, "Ctrl" lets you select the pictures one at a time, and "Shift" lets you select pictures in batches.
I'm sorry if you got terribly lost. I'm not so great at teaching technical stuff. Let me know if it helped!
Do you want to get your pictures organized on your computer? Here are my other posts in this series:
Monthly Folders
Deleting Pictures
Renaming and Tagging Pictures

Latest posts by Charlee Flaminio
(see all)