We just celebrated our 7th wedding anniversary, and it got me thinking about our wedding. We may not have had the most fabulous of weddings, but we actually enjoyed ourselves. Before my own wedding, I had been to too many weddings where I could tell the bride and groom were less than excited; they had a line and had to stand there shaking people's hands for 3 hours. That kind of wedding reception was not for us. So even though our budget was slim, we planned it so we and our guests would actually have smiles on our faces.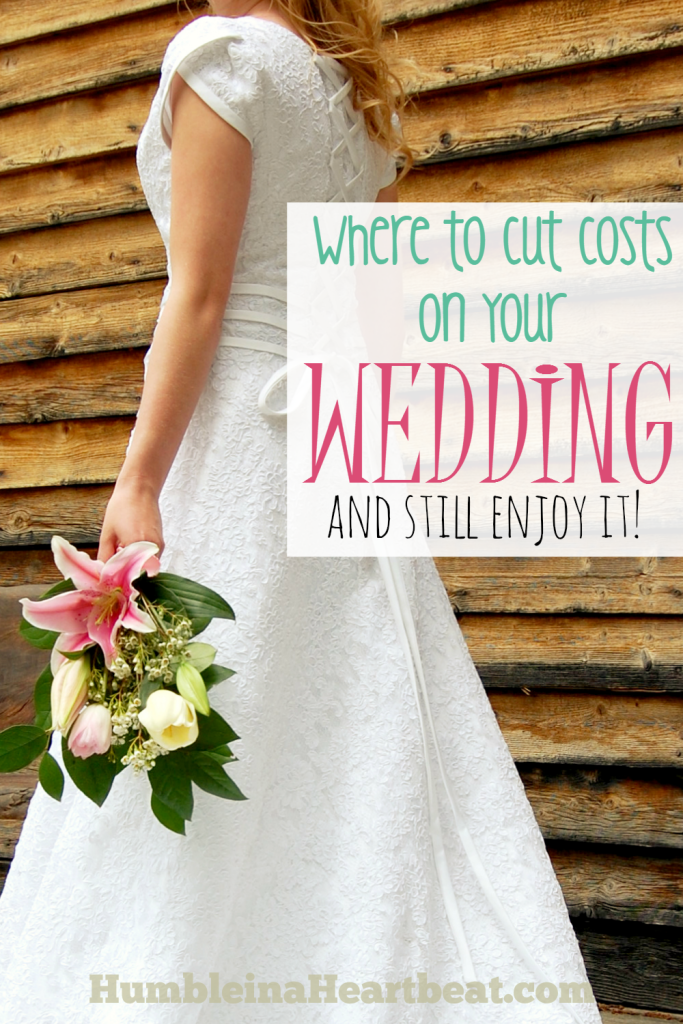 My parents paid for much of the wedding, but I still wanted to come in under budget. I could have used the entire $5,000, but everything came in under $4,500 because I did whatever I could to cut costs. It's kind of funny because I asked a friend afterward how much she thought we spent on our wedding and she said $1,000. So maybe it looked cheap to some people, but we honestly had the best time and people still talk about and remember our wedding to this day because of how unique it was.
How We Came in Under Budget
The average cost of an American wedding is right around $25,000. Since we only had 20% of that money for our own to use, we had to be very creative and learn to be content with less. As a bride flipping through magazines (there was no Pinterest back then!), I often thought about how much I wanted this or that for my own wedding. But since funds were just not there, I did my best to be happy with the money we did have to spend.
I went through this list of typical wedding expenses to try and figure out where we cut costs the most. Of course what we did is not for everyone, because, let's face it, our wedding was definitely not your average wedding. But I think it can help someone who is trying to save a bit of cash (my bro is getting married soon so maybe this can help him!).
Our Highest Expenses
We spent the most money on my wedding dress, chair rental for the ceremony, the DJ, flowers, invitations, postage, food, and the bridal shower.
My wedding dress was really inexpensive. I got it for less than $300, but I have one regret. I wish I had done alterations because it was much bigger up top than I am. I was just trying to save a buck or two, but it didn't work out in this instance.
Chair rental was around $200, but we could have got away with getting less chairs since about half of the people we expected to come to our wedding ceremony did not.
Since we felt like the music was really important to our wedding, we were willing to spend a little more for a DJ. The DJ was a friend of my husband's sister, so we spent less than $400 on him. We picked all our music beforehand so his job was fairly easy.
Flowers would have cost even more, but my cousin's wife did them and she gave us a huge discount. The flowers turned out beautifully and we spent less than $300 on them!
The invitations were a huge stressor for me. One of my husband's friends helped us with the invitations at first, but they really weren't what I wanted. So I spent some time in Photoshop designing my own. Half of our invitees got the invitations we ordered and the other half got invitations I designed. We spent nearly $300 on invitations overall. If I could go back, I would design them all myself and spend less than $100 printing them all out.
There's no way around postage, and it was probably at least 10 cents less per stamp in 2008 than it is now. We had to spend at least $200 on stamps for sending out invitations, bridal shower invites, and thank you notes.
Food was the kicker. We spent well over $1,000 on it, and it wasn't like we fed everyone a three-course dinner. We went simple with little chicken salad sandwiches, pasta salad, fruit, fruit tarts, and punch. I honestly wish we could have spent over $3,000 on food so we could have had a nicer meal.
My mom threw a bridal shower for me, so I don't know how much she spent, but I'm willing to bet it was at least $150.
If you add up all the above mentioned costs, they are right around $3,000.
Where We Saved the Most Money
There were several areas of our wedding that we spent next to nothing including my hair and makeup, the wedding party (bridesmaids and groomsmen), the venue, tables and chairs for the reception, photography, and a wedding planner.
When it came down to my hair and makeup for my wedding, I was totally and completely fine with having my sister-in-law do it for me. I'm not one to fuss over making myself look beautiful, but I think I looked beautiful just the same. It was free to go this route!
We didn't have a wedding party, hence the reason why we spent so little on it! When you have bridesmaids and groomsmen, there are certain expectations about what you have to pay for and we just didn't have it in our budget to do that. Cutting out the wedding party probably saved us at least $500-$1500!
Our venue was a park. Ha! Our ceremony took place on the grass next to the baseball field. Our reception was under the park's pavilion. Here's why people probably felt like it was a cheap wedding, but I still think it was just right for us. I don't regret doing our reception this way at all. We spent $50 to reserve the pavilion that day.
Since our reception was under the pavilion, there was no need to rent tables and chairs because we just used the tables that were there. We had to buy tablecloths to cover each one, but we would have had to do that if we rented tables.
Photography tends to be a really high wedding expense for most couples, but we spent nothing on it. My sister-in-law took all our pictures including engagements (even the moment we got engaged!), bridals, the ceremony, and the reception. Talk about a huge task that she pulled off really well!
A lot of people hire a wedding planner so they don't have to stress about all the details of their wedding. A wedding planner just wasn't an option for us, so we planned it all ourselves.
How You Can Save the Most on Your Own Wedding
You may have noticed a theme as I talked about where we spent and saved money on our wedding. That is to go the DIY route and ask people you know to help out.
The next best thing to that is to be creative in saving money. If you are having a winter wedding, you probably do need a wedding venue. But instead of renting the most expensive place out there, look for some place that you can rent for almost nothing. If you are getting married to someone you absolutely love, you probably won't even mind where you get married anyways!
If you cut costs on the right things, your wedding will be just as fabulous as a $25,000 wedding and you won't be paying for it well after the wedding day. Try to make your wedding fun and memorable and don't get all hung up on the costs!
Thank you for reading this post! If you liked it, please share it on Facebook or Pinterest!

Latest posts by Charlee Flaminio
(see all)