Waking up before the crack of dawn has its perks, but it's definitely not for everyone. Whether you would like to be a morning person or you have to become one, I've got some tips for you so you will be able to make the necessary changes in your life.
I myself am a night owl turned early riser. So how did I do it? Read on to find out!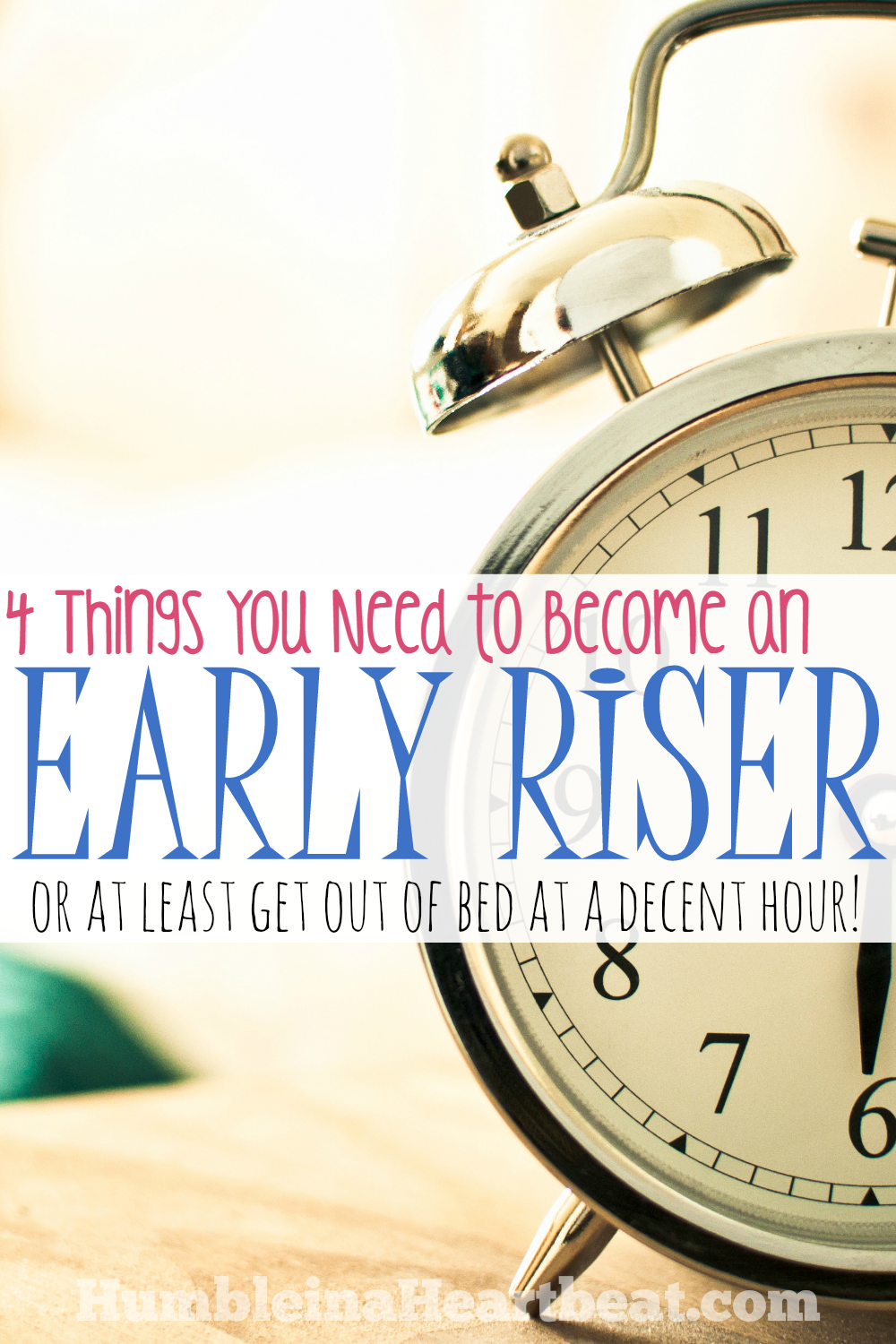 4 Essentials to Becoming an Early Riser
Here are four absolutely essential things you need in order to become a morning person.
A Bedtime
Unless you have a really good excuse, like you have a job that requires you to stay up late, you must have a bedtime in order to start on your path to getting up early. Bedtimes seem incredibly boring, and maybe they are, but without one you will be snoozing past your alarm clock every morning.
I only recently set a bedtime for myself. Before I changed I was going to sleep around midnight or later every night. I would make every excuse to stay up late, and most of the time it was to get work done or get the kitchen in order. Once I set a bedtime of 10:30, and stuck to it, I was able to stop whatever I was doing and get ready for bed.
A Bedtime Routine
A bedtime doesn't do much for you unless you are ready to fall asleep at that time, am I right? You have to wind down and get ready to sleep each night if you want to get up on time the next morning. Make sure you turn off your phone, TV, and computer and get some much needed relaxing time with a book. Or maybe you can use the time to quietly chat with your spouse. Whatever you do, don't lay in bed and scroll through your Pinterest or Facebook feed. It will just keep your brain more active and less likely to sleep!
Read on about the 4 Things You Need to Become a Morning Person over at Frugal on the Prairie!
Was this helpful? Pin it!


Latest posts by Charlee Flaminio
(see all)