An anniversary is such a special time to show your spouse how much you care, but it can get really expensive. My husband and I celebrated our 6th wedding anniversary this year, but I decided to go the cheap and simple route. I made his gift, and it was just as special, if not more special, than just grabbing something at the store for him last minute.

Disclosure: This post contains affiliate links (I've put a * by any link that is an affiliate link). If you click on one of these links and you make a purchase, I will receive a small commission from your purchase. Thank you for supporting Humble in a Heartbeat!
The FANTAstic Anniversary Gift Idea
I bought six 2-liter bottles of Fanta for my FANTAstic Anniversary idea (get it? 🙂 ).
My husband loves drinking Fanta. Growing up in Argentina, he drank Crush (which is uniquely pronounced Croosh). For my anniversary gift, however, the Fanta worked perfectly.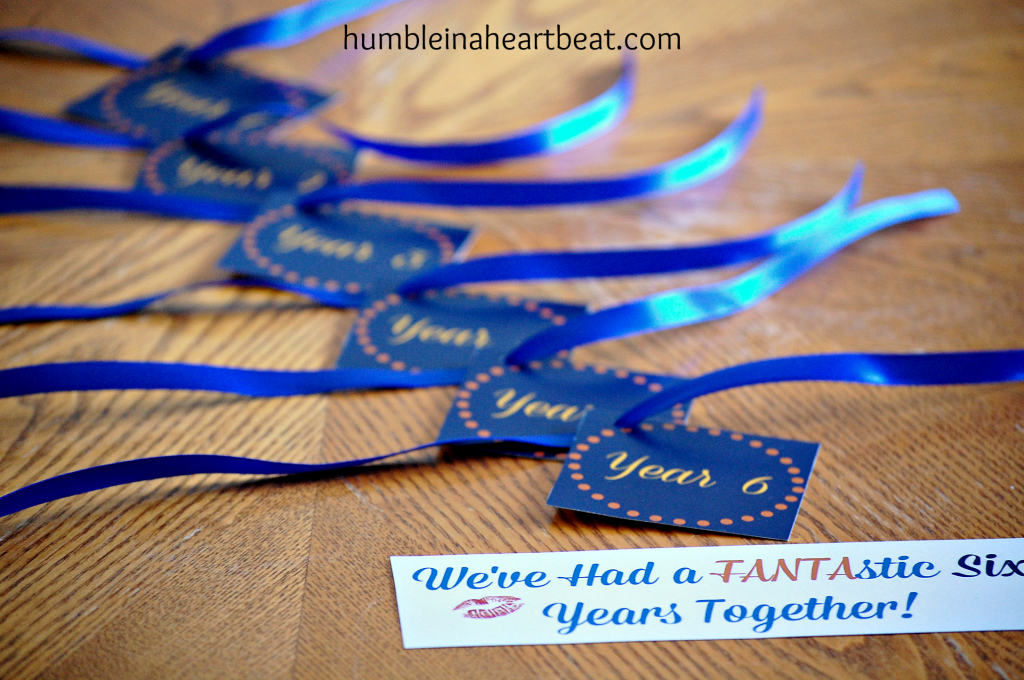 Then, I printed out these little tags, each with the year on them. There are six in total for the number of years we have been married.
I wrote on the back of each tag one thing that happened that year that was a big deal, especially for both of us. For example, in our 4th year, I wrote on the back: We got pregnant with our first baby! She was expected to arrive on July 28th!
If your husband also loves Fanta and it's your 6th anniversary (or anything less than 6), you can download this free printable to make your own.
All you need is a hole punch (this hole punch
* is not the one I used, but it's a good alternative), scissors, and some ribbon (again, I used a different kind, but this one has lots of ribbon
* and great reviews).
You just cut some ribbon for each tag, tie it around each Fanta bottle, and place them all in the fridge for the best part: the SURPRISE!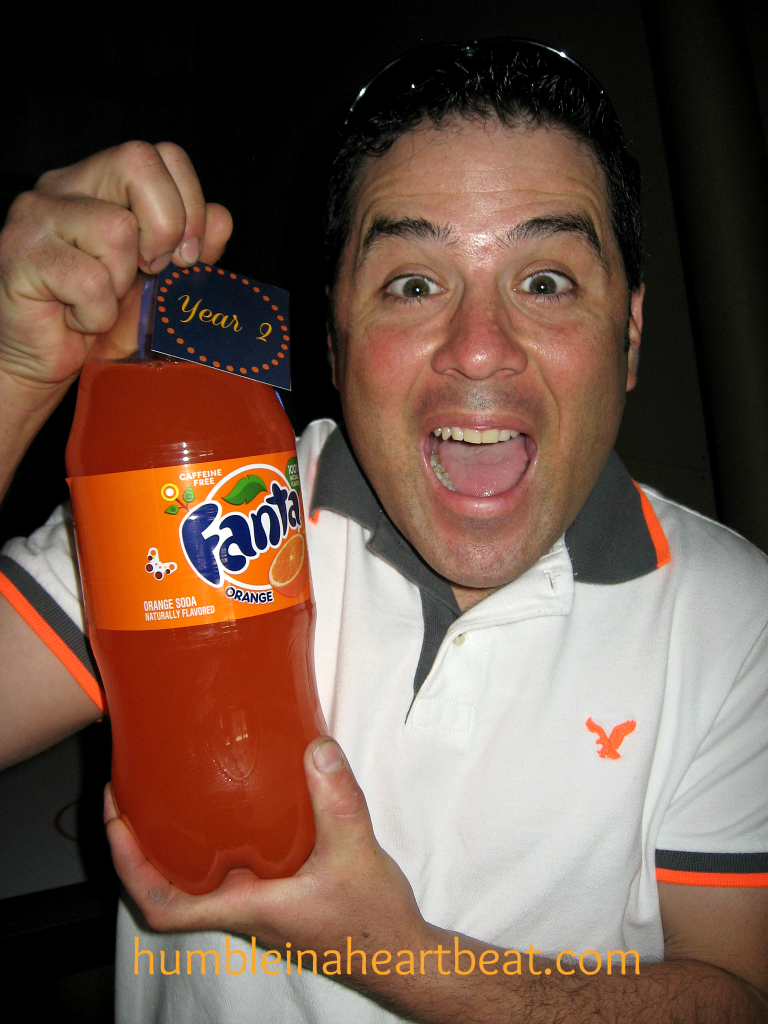 I gave my husband the piece of paper that says: "We've Had a FANTAstic Six Years Together!" He read it and didn't get it right away, but then I pointed out to him the word 'Fantastic' and he asked me where the Fanta was!
If you want to make this for your spouse for your anniversary, you don't have to use Fanta. Give him his favorite drink instead. If it is your 10th anniversary, get 10 of that drink. You could even get 10 cases of the drink rather than just 10 cans. It can be a fun gift if you get a little creative!
Cost of FANTAstic Anniversary Gift
In case you are wondering, this project cost me a total of: $7.88 + tax:
Fanta – $1 a piece
Printable (printed at Staples on cardstock) – $.98
Ribbon ($1.97 divided by 3, because I didn't use it all) – $.66
Scissors ($1.88 divided by 50 since I'll definitely be using these more) – $.04
Hole punch ($2 divided by 10 since I know I'll use it on more than just this project) – $.20
How many years have you been with your spouse, and what are your plans for the next anniversary?
I found the idea for this anniversary gift on The Dating Divas. The original idea can be found here.
Linked to: Hump Day Happenings

Latest posts by Charlee Flaminio
(see all)