When you start a family and know that your financial burden will naturally increase, it's easy to wish that you were in a better situation and could afford just about everything under the sun for that little bun in your oven. I am grateful we didn't have a lot of money when starting our family, but I do wish we could have had just a little more to buy some extras of the baby products that were useful to us.
© famveldman / Dollar Photo Club
Disclosure: This post contains affiliate links (I've put a * by any link that is an affiliate link). If you click on one of these links and you make a purchase, I will receive a small commission from your purchase. Thank you for supporting Humble in a Heartbeat!
If you have already had a child, you know what I'm talking about. Losing a binky in the middle of the night can be a very stressful situation! Having a baby with a stuffy nose would be a lot easier to handle if you weren't so worried about using the bulb syringe (is there mold hiding in there??). It's just nice to feel at ease with newborns and toddlers, and having a few extra products could mean just that.
7 Baby Products You Should Buy More of
They say money can't buy happiness, which I agree with, but when it comes to babies, I do believe that having more money to buy useful baby products can mean greater comfort and help to get rid of tears quickly. Maybe you'll agree!
I wish we would have had more:
1. White Onesies
I think we had more adorable dresses than we had white onesies. How practical are adorable dresses? Maybe once a week practical. Outside of church, weddings, and their weekly baby pictures, my girls weren't wearing dresses to lounge about at home! Besides, white onesies can be worn under anything and match everything.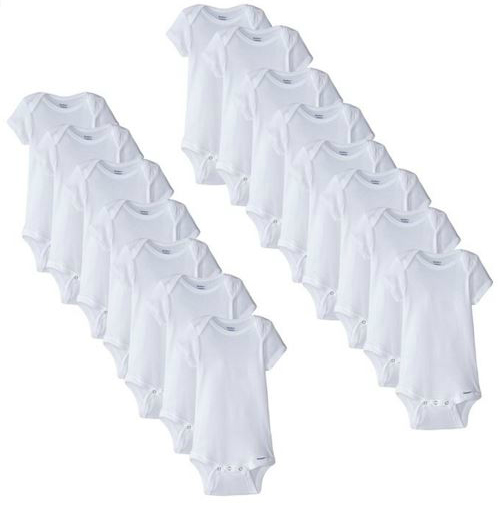 Babies are known to have several diaper blowouts, but with white onesies you can rest at ease, because, bleach.
I think we had maybe 6 newborn white onesies and a couple in each size after that. Not enough, in my opinion. I would have loved to have 12 size newborn and six of each size after that.
White onesies are completely gender neutral, too, so if you have a boy first and a girl second, you can easily use them for both kids!
2. Waterproof Mattress Covers
I invested in one mattress cover for the crib mattress, and I wish I would have bought more! When my oldest daughter was 18 months old, she would wake up nearly every morning with a soaking wet diaper, which soaked her pajamas, went through her crib sheet, and ended up on her mattress cover. The same thing has been happening with my youngest who is now two. Only, now the mattress cover is becoming very worn due to a lot of washings! I should have bought 2 or even 4 more mattress covers!!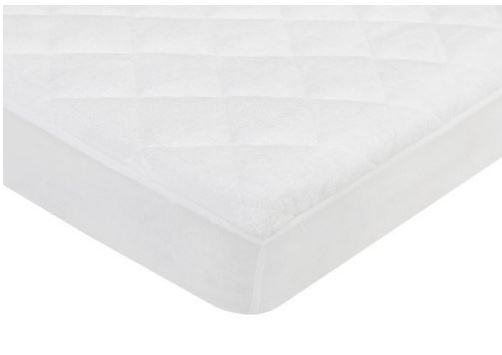 The one I bought was the Carter's brand, but that one has been discontinued by the manufacturer, so I recommend this waterproof mattress cover from Margaux & May* because it has excellent reviews! Whatever mattress cover you buy, just be sure that it will fit your crib mattress before you buy it!
3. Pacifiers
Both of my daughters loved their binkies. My oldest let it go on her own when she was 9 months old, but my youngest kept going until she was 3 months away from turning 2. I took it away, and she had a hard time for one night, but then she completely forgot about it. Now my husband occasionally lets her put it in her mouth and she thinks it is funny because she's a "baby." Ha!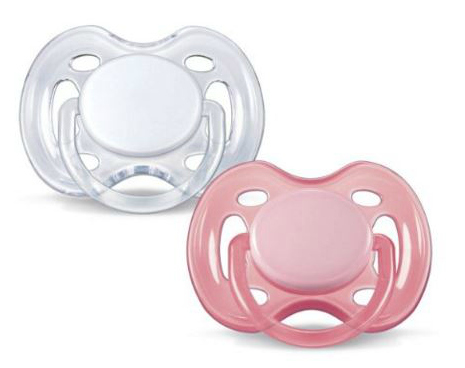 I don't have a problem with binkies, especially during the first year, and I wish we would have had a stash of 10 binkies. We normally only had about 2-3 at a time, which were often all missing at the same time or could have easily been missing at any moment.
I think WubbaNubs* are way too adorable (they are essentially a stuffed animal with a binky in the mouth for baby), and I'll definitely be getting one of these if I have another child! They look like they would be a lot easier to keep track of!
4. Baby Books
We had a few board books for our girls to slobber on look at, but I wish we would have had books that are specifically for young babies who like to chew, slobber, and look at black and white pictures. Although your child will only "read" them for a few months, cloth books and black and white books are so much fun for babies and important for their early development. I hated keeping certain books away from my girls because I was worried about pages being ripped or slobbered on!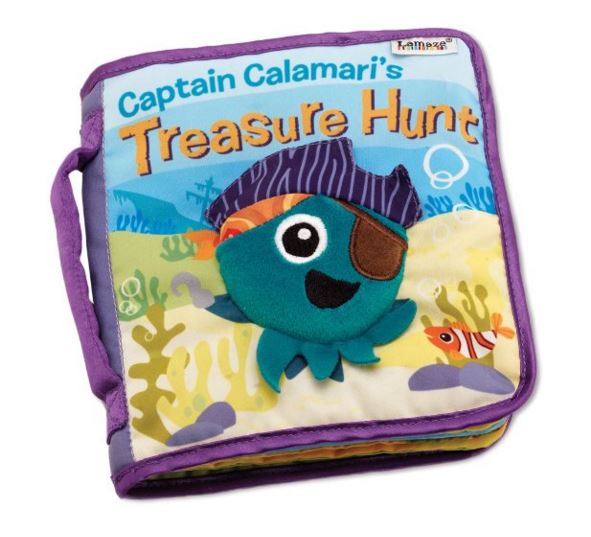 I love the selection of cloth baby books* and black and white baby books* available on Amazon!
5. Gliders
We got a used glider that we put in the nursery when my oldest was a baby. But it would have been so nice to have one in the living room as well. You can't easily move a glider, especially in the middle of the night, and I didn't always want to feed my girls in their room.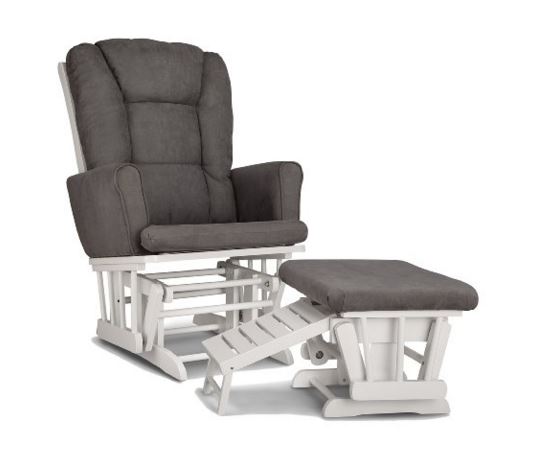 I also wish my glider had an ottoman. My knees have never felt worse than they do when I am nursing or trying to put my baby to sleep while sitting down, so I think putting my feet up would have been heaven.
If you plan to buy one or two gliders, search your local classifieds and Craigslist first before looking for a new one. We got ours for more than half the price of a really nice glider, and we still love it and use it over 3 years later!
6. Changing Pad Covers
I bought one (ONE!) changing pad cover for the changing pad in the nursery (we had a waterproof one that came with my diaper bag for on-the-go). Huge mistake! It was adorable and matched the nursery theme I was going for, but I couldn't justify buying two, because the one I got cost $16! It would have been so nice to have two, because when one gets pooped or peed on, the other can replace it and there are no problems.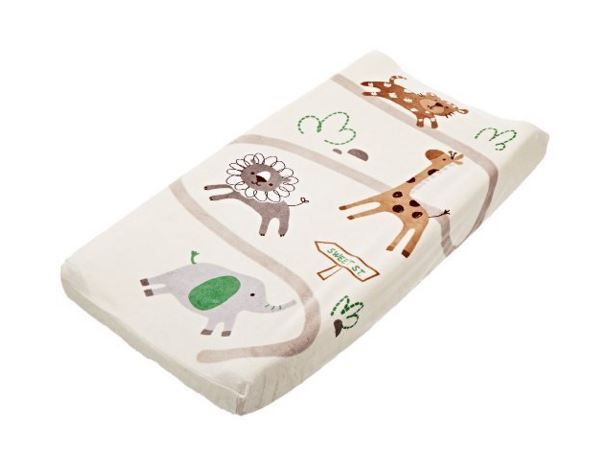 There are so many changing pad covers available, with lots of different patterns and colors, that you'll likely be able to find one that matches your baby's nursery. The one I bought was from Zutano, but it's been discontinued! I love it, though, because it is soft, made of quality material, and has an adorable elephant pattern on it.
7. Nose Suckers
We had one nose sucker (I guess the proper name for it is "bulb syringe") for both of our daughters, and I really wish we would have had several for each of them. I was always scared to use it because of the potential mold hanging out inside. If I could have I would have bought 4 for the year and threw away one every 3 months. Just to be on the safe side. 🙂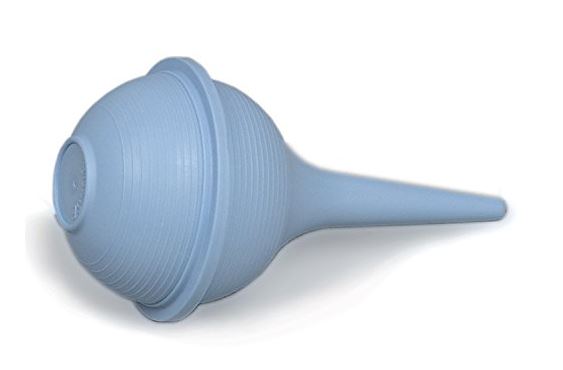 However, I recently bought a nasal aspirator* because my 3 year old was all plugged up. I ended up not using it, but I'm going to keep it around because apparently it's a great product that works wonders compared to your average bulb syringe.
While I would have loved to have more of these baby products, they will likely be different for you! However, I still believe that a lot of these baby products should be top on your list for your baby registry. If you can afford to buy more of them (and you need them) and you like these products, go for it!
What baby products do you think deserve a spot on this list?

Latest posts by Charlee Flaminio
(see all)