Sick season is upon us, and I do NOT want a repeat of what happened to our family during the first few months of 2014.
© Andy Dean / Dollar Photo Club
We were all sick right before little Bella was born in January. Being pregnant, going into labor, and dealing with postpartum issues while sick is definitely something to avoid. I wish I had done some simple things to better prevent myself from catching a cold at that time.
I kept track of our illnesses then, and now I'm so glad I did. I only remembered one or two times that my daughters got sick, a handful of times my husband was sick, and the four times I was sick. I didn't realize, until I looked at my notes, that we all got sick much more than that.
Staying healthy is not so easy, but when I look back on how often we were sick this past year, I am more motivated to do things that will prevent us from getting sick. That is why I want to give you a free printable so you can track your own family illnesses. This can also aid you when you go visit the doctor so you can remember all the different symptoms you've had, what medications you have taken, and if you are getting plenty of rest and water.
Prevention Is Key
First, these links might be useful to you if you want to prevent certain ailments from happening in the first place.
Homemade Elderberry Syrup for Flu Prevention from Wellness Mama
A Mom's Top 20 Ways to Exercise from Simple Holistic Girl
9 Tips on Staying Healthy for Labor from Humble in a Heartbeat
Health Benefits of Garlic from Healthy Living How To
The Anti-Flu, Immune-Boosting Super Green Smoothie from Green Reset
Stop a Cold in Its Tracks! from I Think We Could Be Friends
Organic Mattresses: Why We Switched from Wellness Mama
The Costs of Getting Sick
What I've realized over the past few years is that getting sick is a whole lot more expensive than staying healthy. When you come down with any ailment, these are the direct and indirect costs associated with it:
Doctor Visits – $25
Medicine – $20
Call in sick – more than $100/day
Tissues – $3
Lots of Vitamin C – $5
Getting others in the house sick – another $53/person (if they are kids or do not work)
Housework has to wait
Stuck at home
The total cost of one person getting sick, staying home from work for 3 days, visiting the doctor, getting a prescription, and getting another family member sick is at least:
$406
*These are amounts from my own experience. Yours will probably look a lot different. The point, though, is that it costs a lot of money to get sick.
Track Your Illnesses
If you use my family illness tracker, you can see how often you and your family members get sick, as well as what remedies work. It might also be beneficial to keep track of how much rest and water you are getting while you are sick.
Click on the link or the picture to download your Family Illness Tracker.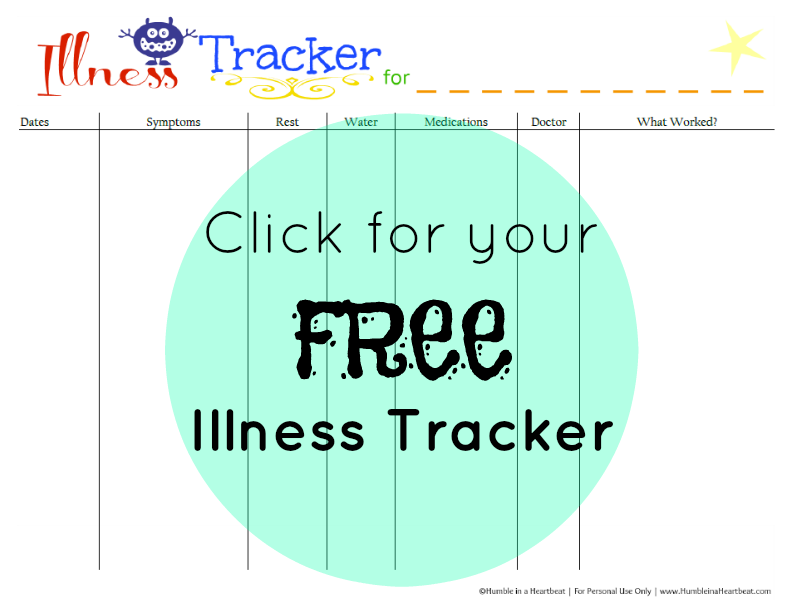 What do you do to prevent your family from getting sick? Do you agree that getting sick is expensive?

Latest posts by Charlee Flaminio
(see all)