Hi there! I'm Chelsea and I blog over at The Contented Wife Blog. I'm so excited to be taking over Charlee's blog today to share with you how I planned my son's first birthday party on a budget. We threw a nice birthday party without breaking the bank and you can too!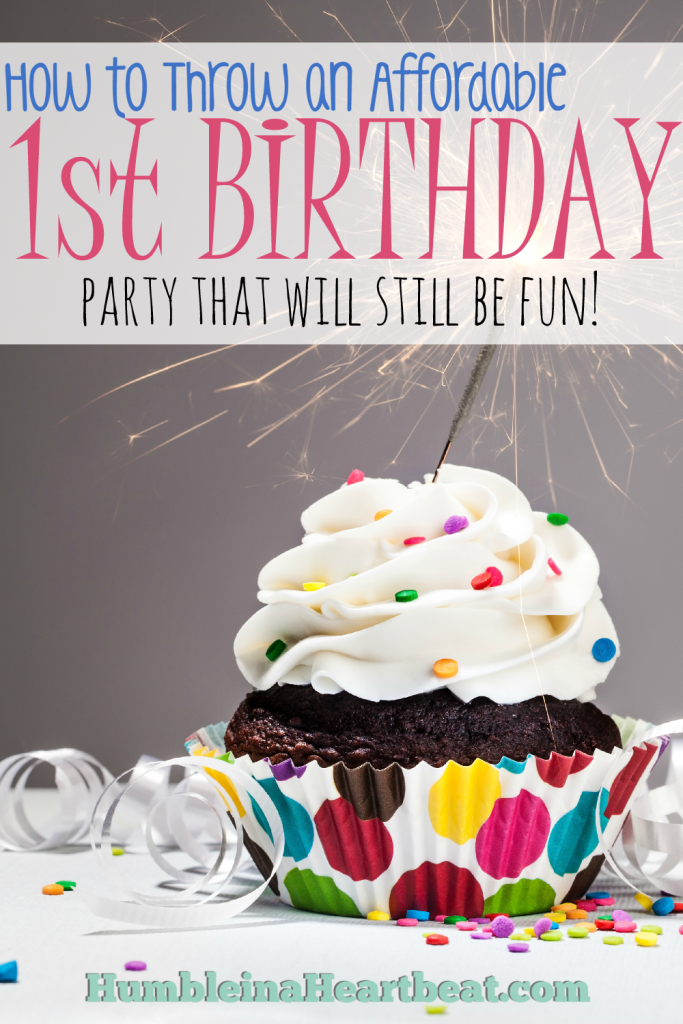 © jfunk / Dollar Photo Club
Of course, one of my first places to get ideas for his birthday party (or anything, really) is Pinterest. I pinned several different ideas and found some that I thought would be relatively easy to do. We are a one income family, so throwing the party on a budget was definitely of importance.
Cost of the Party
I'll try to break down for you what we spent our money on, but there may be a few areas where you could say I cheated. I'll explain those at the end of the post. Also, these figures are estimates. It's really hard to say exactly how much each food item cost since some ingredients we already had, some we have leftover to use in the future, and some were split between dishes. Please know I tried my best to give you the most accurate figure.
Food:
Ham and Smoked Brisket: Free – The ham was gifted to us when LB was born and has been in our freezer ever since. The brisket was also gifted to us because my husband's wonderful grandparents give us 1/2 a beef each year.
Homemade Rolls – $5.00
Green Bean Casserole – $5.50
Snicker Salad – $10.00
Deviled Eggs – My husband's aunt brought
Baked Beans – $6.50
Macaroni and Cheese – $4.00
Homemade Ice Cream – $6.00
Birthday Cake – $10.00
Chips and Dip – $5.00
Paper Products:
Plates – $7.00 – I realize we can buy a big package of Hefty plates at Walmart for about three bucks, but my husband is a bit snooty when it comes to paper plates. He wants the good kind. 🙂
Plasticware – $3.00
Decorations:
Red, White, and Blue paper fans – Less than $2.00 on clearance at Hobby Lobby
Paper to make bunting – $5.00
Posterboards (2) – $1.19 each
Printed Signs from Kinkos – $1.27
Tablecloth – $2.00 (Already had two, bought the other on clearance from Hobby Lobby)
Balloons – $1.50 on clearance from Hobby Lobby
Cake Boards – $6.50 (A package of six, so I still have some leftover for future cakes)
Total: $80.46
Where did I cheat? Well, I did technically print off all of my Instagrams of LB for the party, BUT I already have them in an album and I would have printed them off anyway. If you add the cost of those, it would bring my party total up to $96.62. Still under $100 though, so that's pretty good! Also, I bought a round cake pan and piping bags and tips to decorate the cake, but I'll use those in the future for more birthday cakes and sugar cookie decorating.
How to Throw an Affordable First Birthday Party
1. Make your own cake.
This might be a little intimidating if you've never done it before, but you can do it! I made a practice cake about a month or so earlier because I'd never decorated a nice cake before. ha ha! If you make your own cake, I'd guess you can plan on saving around $20-30, easy.
2. Don't fix a full meal.
We fixed a full meal, but that is because our meat was already taken care of. Also, our families don't live close so we feel a little bad making them all drive two hours (one way) and not feeding them a meal. 🙂 If your guests live close, have the party mid morning or late afternoon and serve a few light snacks with your cake.
3. Keep decorations in check.
It would be neat to throw a huge, full-blown, Pinterest-style birthday party, but with our budget it just wasn't an option. I was still able to have fun decorations without spending a ton of money on unnecessary things.
4. Have the party at your house.
It would have been nice to have the party somewhere else…we would have been able to keep the mess out! To us, paying for a venue wasn't even considered. It would have been an unnecessary expense when our backyard made a perfectly fine place to have it.
5. Determine what is really important.
Smash cakes and themed outfits are popular for first birthdays, but, in my mind, they are just an added expense. From a practicality standpoint, I couldn't justify making LB a special shirt specifically for his birthday party and I didn't want to spare another cake and icing for him to play in.
I hope this post helped give you a few ideas for a budget friendly first birthday party. If you'd like to see more pictures of his party, you can see my post on it
here
. I also wrote another post about how to make the
party planning process stress free
– I should have followed my own advice on that one. 😉
I appreciate Chelsea for working so hard to figure out how much her baby's birthday cost! She had some great tips, don't you think?
Would you add any other money saving tips for a one year old's birthday party?

Latest posts by Charlee Flaminio
(see all)