Every year, I so look forward to watching classic Christmas cartoons while the snow is falling, snuggling under a thick, puffy blanket with some hot chocolate and marshmallows, and just relaxing for a few hours straight.
Some of my fondest memories of Christmas are of when we would gather as a family to watch all the amazing Christmas shows that were on the television.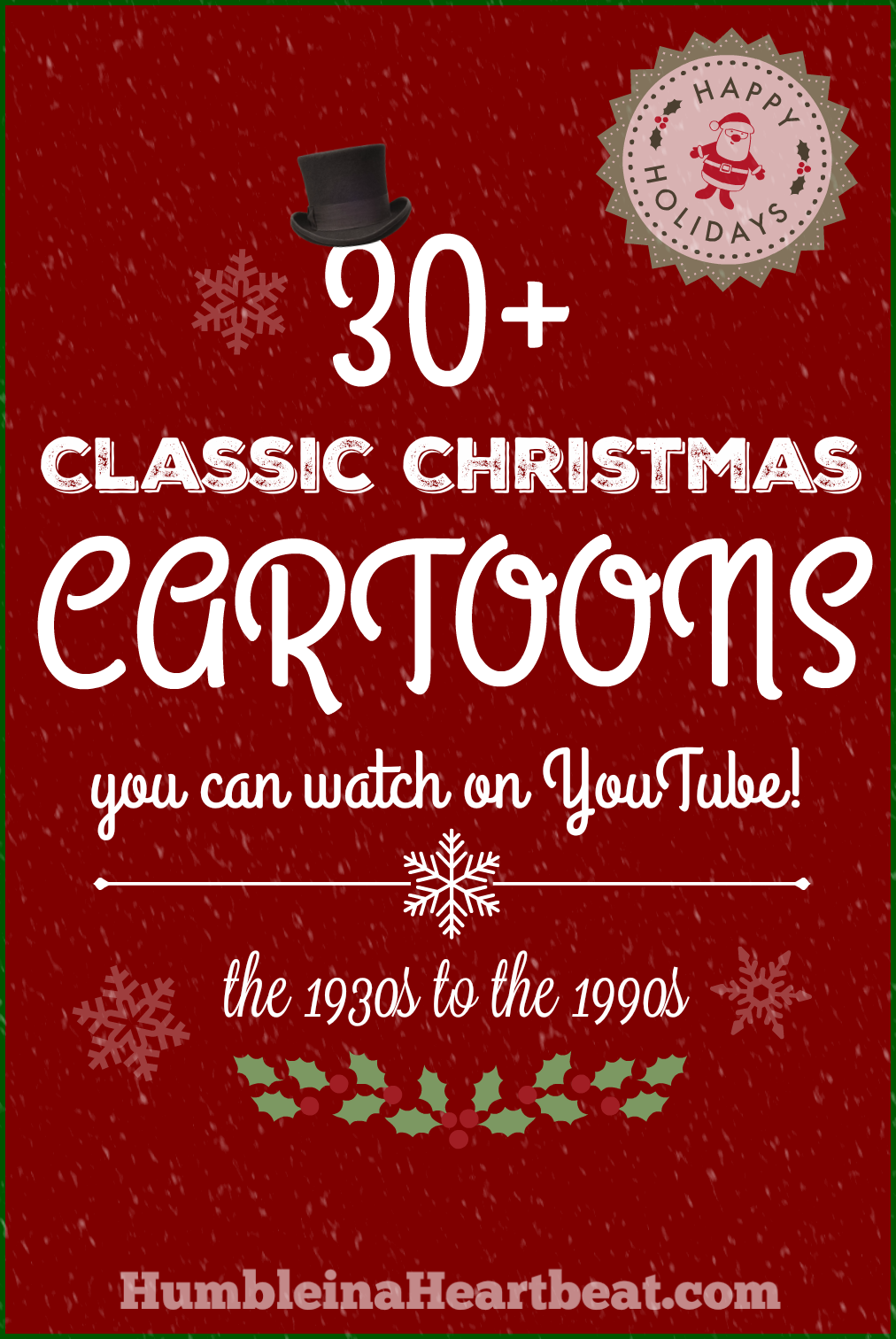 Disclosure: This post contains affiliate links (I've put a * by any link that is an affiliate link). If you click on one of these links and you make a purchase, I will receive a small commission from your purchase. Thank you for supporting Humble in a Heartbeat!
Nowadays, when I watch any of these Christmas specials, it instantly takes me back to that time. I admit, the TV is actually a poor place to connect, but for some reason it just makes me feel all warm and happy when I think about these fun classic Christmas cartoons that I grew up with.
My husband was not as fortunate as I was. 😉 He was born in a country south of the equator where Santa arrived in island shorts and sunglasses because, you know, summer. He has only seen a couple of classic Christmas cartoons!
30+ Classic Christmas Cartoons You Can Watch on YouTube
I cannot let my husband go on living like this any longer! 😉 For his sake, I've gathered all the best classic Christmas cartoons I could find and we are going to watch several of them this Christmas season!
We don't have cable, Netflix, Hulu, or any of those subscription services all you cool cats are using these days, but we do have YouTube, and it's a gold mine when it comes to finding classic Christmas cartoons! Since I spent so much time searching for these shows, I thought I would share them with you here.
The Christmas cartoons on this list are from the early 1930s until the early 1990s. Grab your grandma and other relatives, turn on one of these classics, and be prepared for some serious nostalgia!
'30s
Mickey's Orphans | 1931
Santa's Workshop | 1932
Mickey's Good Deed | 1932
The Night before Christmas | 1933
Broken Toys | 1935
The Cookie Carnival | 1935
On Ice | 1935
Alias St. Nick | 1935
'40s
The Art of Skiing | 1941 No longer available 🙁
Donald's Snow Fight | 1942
Toy Tinkers | 1949
'50s
Corn Chips | 1951
Gift Wrapped | 1952 No longer available 🙁
Once Upon a Wintertime | 1954
'60s
Rudolph the Red-Nosed Reindeer | 1964
A Charlie Brown Christmas | 1965 Not the entire show, but you can buy it through Amazon*
How the Grinch Stole Christmas | 1966 Not the entire show, but you can buy it through Amazon*
Frosty the Snowman | 1969
'70s
Santa Claus is Comin' to Town | 1970 Not the entire show, but you can buy it through Amazon*
'Twas the Night before Christmas | 1974
The Year Without a Santa Claus | 1974
A Cosmic Christmas | 1977
Emmett Otter's Jug-Band Christmas | 1977
Nestor, the Long-Eared Christmas Donkey | 1977 Not the entire show
The Small One | 1978
Jack Frost | 1979 No longer available 🙁
'80s
The Snowman | 1982
Mickey's Christmas Carol | 1984
A Garfield Christmas Special | 1987
A Muppet Family Christmas | 1987
'90s
A Wish for Wings That Work | 1991
It's Christmas Time Again, Charlie Brown | 1992
What is your favorite classic Christmas cartoon?

Latest posts by Charlee Flaminio
(see all)